Spring
Join LibraryThing to post.
This topic is currently marked as "dormant"—the last message is more than 90 days old. You can revive it by posting a reply.
Nothing is so beautiful as spring . . .
The glassy peartree leaves and blooms, they brush
The descending blue; that blue is all in a rush
With richness . . .
-
Gerard Manley Hopkins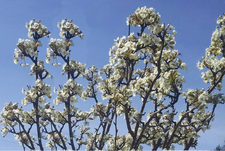 Edited to add touchstone. - hearthlit
The sturdy seedling with arched body comes
Shouldering its way and shedding the earth crumbs.
- "Putting in the Seed," by
Robert Frost
And, from another author:
"Every time a bean popped up, Grace squealed again."
This is one of my favorite moments in . . . (you fill in the title!).
Full of fresh scents
Are the budding boughs
Arching high over
A cool green house.
- "Spring Quiet," by
Christina Rossetti