Connie's BFBs in 2019
Join LibraryThing to post.
Hi all, I'm in for another year and I want to read 6 (or more) BFBs in 2019.
01.
Een fractie van het geheel
by
Steve Toltz
02.
Maan
by
Lucinda Riley
03.
Witte dood
by
Robert Galbraith
04.
Het legioen van vlammen
-
Anthony Ryan
05.
Het keizerrijk van as
-
Anthony Ryan
06.
De torenheer
-
Anthony Ryan
07.
De vuurkoningin
-
Anthony Ryan
08.
De glazen boeken van de dromeneters
-
Gordon Dahlquist
** Currently reading.
How lovely to see you here, Connie, and all my best wishes for a happy 2019!
Hi Connie my dear, nice to see you here again.
Starting my first BFB for this year.
Een fractie van het geheel
by
Steve Toltz
640 pages.
This is the translation of
A Fraction of the Whole
This is not my review, but the Blurb from LT
Most of his life, Jasper Dean couldn't decide whether to pity, hate, love, or murder his certifiably paranoid father, Martin, a man who overanalyzed anything and everything and imparted his self-garnered wisdom to his only son. But now that Martin is dead, Jasper can fully reflect on the crackpot who raised him in intellectual captivity, and what he realizes is that, for all its lunacy, theirs was a grand adventure.
As he recollects the events that led to his father's demise, Jasper recounts a boyhood of outrageous schemes and shocking discoveries—about his infamous outlaw uncle Terry, his mysteriously absent European mother, and Martin's constant losing battle to make a lasting mark on the world he so disdains. It's a story that takes them from the Australian bush to the cafes of bohemian Paris, from the Thai jungle to strip clubs, asylums, labyrinths, and criminal lairs, and from the highs of first love to the lows of failed ambition. The result is a rollicking rollercoaster ride from obscurity to infamy, and the moving, memorable story of a father and son whose spiritual symmetry transcends all their many shortcomings.
And I finished this book this morning. Great start. I found it a very thought giving book. There is a lot of philosophy is it. Sometimes that made me think.
Finished my second BFB
Maan
by
Lucinda Riley
603 pages
This not my review, but from BOL.com
After the death of her father – Pa Salt, an elusive billionaire who adopted his six daughters from around the globe – Tiggy D'Aplièse, trusting her instincts, moves to the remote wilds of Scotland. There she takes a job doing what she loves; caring for animals on the vast and isolated Kinnaird estate, employed by the enigmatic and troubled Laird, Charlie Kinnaird.
Her decision alters her future irrevocably when Chilly, an ancient gipsy who has lived for years on the estate, tells her that not only does she possess a sixth sense, passed down from her ancestors, but it was foretold long ago that he would be the one to send her back home to Granada in Spain . . .
In the shadow of the magnificent Alhambra, Tiggy discovers her connection to the fabled gypsy community of Sacromonte, who were forced to flee their homes during the civil war, and to "La Candela' the greatest flamenco dancer of her generation.
From the Scottish Highlands and Spain, to South America and New York, Tiggy follows the trail back to her own exotic but complex past. And under the watchful eye of a gifted gypsy bruja she begins to embrace her own talent for healing.
But when fate takes a hand, Tiggy must decide whether to stay with her new-found family or return to Kinnaird, and Charlie . . .
Finished BFB # 3
Witte dood
by
Robert Galbraith
732 pages.
From BOL.com, not my review
'I seen a kid killed . . . He strangled it, up by the horse.'

When Billy, a troubled young man, comes to private eye Cormoran Strike's office to ask for his help investigating a crime he thinks he witnessed as a child, Strike is left deeply unsettled. While Billy is obviously mentally distressed, and cannot remember many concrete details, there is something sincere about him and his story. But before Strike can question him further, Billy bolts from his office in a panic.

Trying to get to the bottom of Billy's story, Strike and Robin Ellacott - once his assistant, now a partner in the agency - set off on a twisting trail that leads them through the backstreets of London, into a secretive inner sanctum within Parliament, and to a beautiful but sinister manor house deep in the countryside.

And during this labyrinthine investigation, Strike's own life is far from straightforward: his newfound fame as a private eye means he can no longer operate behind the scenes as he once did. Plus, his relationship with his former assistant is more fraught than it ever has been - Robin is now invaluable to Strike in the business, but their personal relationship is much, much more tricky than that . . .
I'have been reading lots of chunksters in the last few weeks. But all stayed just under 600 pages. Like 543 of 578.
Number 4 read!
Het legioen van vlammen
by Anthony Ryan 680 pages.
NOT my review but the blurb from LT
The Legion of Flame is the action-packed second novel in the Draconis Memoria series - an enthralling epic fantasy of magic, adventure and the furious battle to forge an empire. Claydon Torcreek has survived drake-infested jungles, hostile tribes and the cold touch of betrayal - yet his troubles have only just begun. The legendary white drake - believed to be nothing more than a myth - has awoken from its long slumber, with a thirst to reduce the world of men to ashes. One city has already fallen to the drake's formidable legions. More will follow, unless Clay can uncover an ancient secret that lies buried beneath the southern ice. Once again Clay must face unthinkable danger, and this time he carries not just the hopes of his own nation, but the fate of the entire world.
Finished BFB # 5
Het keizerrijk van as
by
Anthony Ryan
This is the blurb, NOT my review!
The White Drake's army has cut a bloody swathe across the world, leaving nothing but ash in its wake. Thousands of innocents have died beneath its blades and countless more will surely follow.
Only small-time criminal Claydon Torcreek and master spy Lizanne Lethridge - along with their ragtag band of allies - stand between the white drake's fury and the world's end.
To save the future, they must delve into the past - and unravel a timeless mystery that might just turn the tide once and for all.
Armies will clash and ancient secrets will be revealed in The Empire of Ashes, the thrilling conclusion to Anthony Ryan's Draconis Memoria series.
And # 6 finished today. I've reached my goal of BFB's but will donate any other I will read to the group total.
De torenheer
by
Anthony Ryan
745 pages
The blurb, not my review.
Vaelin Al Sorna is tired of war. He's fought countless battles in service to the Realm and Faith. His reward was the loss of his love, the death of his friends and a betrayal by his king. After five years in an Alpiran dungeon, he just wants to go home. Reva intends to welcome Vaelin back with a knife between the ribs. He destroyed her family and ruined her life. Nothing will stop her from exacting bloody vengeance - not even the threat of invasion from the greatest enemy the Realm has ever faced. Yet as the fires of war spread, foes become friends and truths turn to lies. To save the Realm, Reva must embrace a future she does not want - and Vaelin must revisit a past he'd rather leave buried.
Finished # 7
De vuurkoningin
by
Anthony Ryan
, 778 pages
The blurb, NOT my review
In the thrilling conclusion to the bestselling Raven's Shadow trilogy, Vaelin Al Sorna must help his queen reclaim her Realm. Only his enemy has a dangerous new collaborator, one with powers darker than Vaelin has ever encountered. The Ally is there, but only ever as a shadow, unexplained catastrophe or murder committed at the behest of a dark and vengeful spirit. Sorting truth from myth is often a fruitless task. After fighting back from the brink of death, Queen Lyrna is determined to repel the invading Volarian army and regain the independence of the Unified Realm. Except, to accomplish her goals, she must do more than rally her loyal supporters. She must align herself with forces she once found repugnant -- those who possess the strange and varied gifts of the Dark -- and take the war to her enemy's doorstep. Victory rests on the shoulders of Vaelin Al Sorna, now named Battle Lord of the Realm. However, his path is riddled with difficulties. For the Volarians have a new weapon on their side, one that Vaelin must destroy if the Realm is to prevail: a mysterious Ally with the ability to grant unnaturally long life to his servants. And defeating one who cannot be killed is a nearly impossible challenge, especially when Vaelin's blood-song, the mystical power that has made him the epic fighter he is, has gone ominously silent.
Finished # 8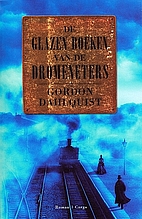 De glazen boeken van de dromeneters
by
Gordon Dahlquist
My review;
An unlikely trio enters into battle against the plans of a number of prominent people in Victorian London. Celeste Temple, a young woman who has just arrived in the city and was dumped by her fiancé, "Cardinal" Chang, an assassin and detective hired to find someone and Doctor Svenson, the personal physician of the crown prince of Meckelenburg who has come for the crown prince's engagement. Their adventures take them to a dark country house where all kinds of practices are going on that have to do with blue glass. That blue glass is chemically processed and can absorb all feelings, memories and sentiments of people, so that people become numb. In the beginning it was very, very strange, but after about 100 pages it caught me completely. A huge book of 887 pages that I have been carrying everywhere for two weeks to miss nothing and lose no reading time.