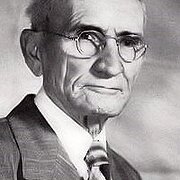 Common Knowledge
Legal name

Birthdate

Date of death

Burial location

Gender

Birthplace

Occupations

Short biography

He obtained his common school education in Missouri where he also was brought up in the business of his father, brick making.

He obeyed the gospel in 1893, and began preaching in July, 1897. A preacher of the gospel for 62 years. As a young man he attended a three month "Bible Reading" conducted by the well-known teacher, A. M. Morris, in 1899. The following year, he attended a "Bible Reading" conducted by Daniel Sommer in Indianapolis.

In 1911, Brother A. W. Harvey arranged for Brother Zerr to conduct a "Bible Reading" which continued for several months at Palmyra, Indiana. These "Bible Readings" usually consisted of two two-hour sessions daily. Young Brother Zerr's special ability as a teacher was soon recognized, and he continued to conduct such studies among churches of Christ for 48 years.

In addition to his oral teaching and preaching, Brother Zerr was a prolific writer. He was a regular contributor to several religious periodicals. Brother Zerr also composed the music and lyrics of several religious songs. Two of these, "The True Riches," and "I Come to Thee," may be found in the widely used song book, Sacred Selections for the church.

For twenty years he read ancient history in connection with Biblical history and prophecy, and then compiled his notes in a book, "Historical Quotations and The Bible." He has also composed twenty thousand questions for Bible students. He also had authored a six volume commentary on the whole Bible.