MemberLouisArmstrong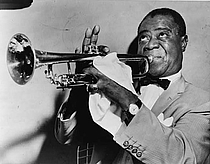 Books

481

Collections

Clouds

Media

Groups

Joined

Feb 23, 2016
Real Name

Louis Armstrong

About My Library

The books included here are those held by the

Louis Armstrong House Museum

, and were owned by Louis and his wife Lucille Armstrong. Also noted in their

online catalog

are the inscriptions found in may of the Armstrongs' books.

About Me

Louis Armstrong (August 4, 1901 - July 6, 1971). American jazz trumpeter, composer, and singer. Nicknamed "Satchmo" or "Pops".


This site uses cookies to deliver our services, improve performance, for analytics, and (if not signed in) for advertising. By using LibraryThing you acknowledge that you have read and understand our
Terms of Service and Privacy Policy
. Your use of the site and services is subject to these policies and terms.