Memberkwurst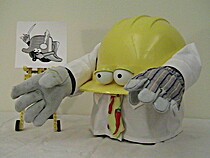 Collections

Tags

@home (434), @office (367), Libby (103), worcester state university library (77), @ebook (59), ur230 (51), @cottage (41), worcester public library (40), robotics (37), sabbatical-2014-to-read (36), cooking (32), artificial intelligence (26), java (15), software engineering (14), networking (12), design patterns (11), Christmas 2016 (11), head first (10), object-oriented (9), Christmas 2014 (9), humble bundle (9), operating systems (8), intellectual property (8), os (8), cs 401 (8), privacy (8), Christmas 2015 (8), database (7), fantasy (7), regency (7), @st110d (6), Christmas 2017 (6), Worcester State University Center for Teaching and Learning (6), Christmas 2009 (6), sabbatical-2014-reading (6), @readercon22 (6), fencing (5), Boskone 2015 (5), sabbatical-2014-read (5), teaching (5), hema (5), programming (5), Christmas 2012 (5), history of computing (4), genealogy (4), lisp (4), pandemic reading 2020 (4), web (4), cs 265 (4), Worcester State University Library (4), security (4), Christmas 2008 (3), cs265 (3), Readercon 2015 (3), sql (3), inscribed (3), ethics (3), early reviewers (3), web programming (3), Christmas 2013 (3), higgins armory sword guild (3), agents (3), costume (3), cognitive science (3), health informatics (2), Christmas 2019 (2), @renovation (2), Readercon 2009 (2), Christmas 2018 (2), Christmas 2011 (2), Arisia 2015 (2), Worcester Public Library (2), case-based reasoning (2), westborough public library (2), Christmas 2010 (2), project gutenberg (2), magic (2), Alice (2), loaned (2), user interface (2), law (2), censorship (2), academia (2), open source (2), design (2), linux (2), algorithms (2), viking (2), automata (1), AM? (1), computer history (1), CS 135 (1), gtd (1), 17th century (1), ur 230 (1), planning (1), dudley public library (1), lost? (1), ai (1), science fiction (1), tall ships (1), problem solving (1), @Aparna (1), ARC (1), borrowed (1), @Paul (1), biography (1), satire (1), history (1), Birthday 2016 (1), learning (1), @ERAU (1), intellectual propterty (1), art (1), research (1), education (1), @hoffice (1), early-release (1), sailing (1), philosphy (1), cs135 (1), western martial arts (1), lawrence library pepperell ma (1), jsp (1), python (1), AI (1), html (1), css (1), rapier (1), computer architecture (1), rfid (1), numerical methods (1), arc (1), servlets (1), functional programming (1), fluency (1), model railroading (1), juvenile (1), filtering (1), grants (1), saber (1), UML (1), marlborough public library (1), milford public library (1), soa (1), cs (1), filed with PLTL (1), flint public library middleton ma (1), pike drill (1), lancaster public library (1), knowledge representation (1), auburn public library (1), identity theft (1), small sword (1), scheme (1), faculty learning communities (1), media computation (1), unix (1), computational linguisitcs (1), intro computing (1), introCS (1), jvm (1)

Clouds

Media

Groups

Joined

Jul 7, 2007
About My Library

Contains both books I own and books I have taken out from the Worcester State University Library, the Worcester Public Library, and others through Inter-Library Loan. I am tagging some of these books to be used as reading and resource lists for students in my classes.

I've finished cataloging my office library, I'm still working on my home library.

About Me

I am Professor of Computer Science at Worcester State University in Worcester, MA, USA

Location

Memberships

Currently Reading

Favorite Authors

Douglas Adams, Jane Austen, Michael Chabon, Susanna Clarke, Neil Gaiman, William Gibson, Edward Gorey, Penn Jillette, America's Test Kitchen, Stanisław Lem, Lawrence Lessig, Steven Levy, Editors of Cook* Magazine, China Miéville, J. K. Rowling, David Sedaris, Lemony Snicket, Tom Standage, Neal Stephenson, Teller, J. R. R. Tolkien

Local Favorites

Libraries: Worcester Public Library, Worcester State University Library

Other: That's Entertainment!
Member Connections
Friends

Interesting Library
This site uses cookies to deliver our services, improve performance, for analytics, and (if not signed in) for advertising. By using LibraryThing you acknowledge that you have read and understand our
Terms of Service and Privacy Policy
. Your use of the site and services is subject to these policies and terms.