Memberpricklypear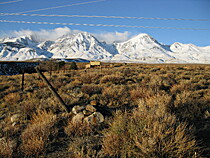 Books

2,602

Collections

Tags

natural history (466), mystery (389), fiction (187), memoir (152), field guides (141), botany (132), authors (117), biography (101), travel narrative (99), humor (98), cookbooks (90), children's literature (86), women's lives (79), essays (78), art techniques (73), ornithology (72), books about books (67), books by friends/acquaintances (65), natural history narrative (64), quilts and quiltmaking (64), gardens and gardening (54), cultural history (54), poetry (53), entomology (51), wildflowers (48), biographical essays (44), drawing (42), food writing (42), diaries (41), psychology (37), anthropology (37), California (37), reading (36), living abroad (35), Southwest (34), art history (33), quilt techniques (32), archaeology (31), mammalogy (30), hiking guides (28), writing techniques (27), ancient world (27), North America (27), homes and haunts (27), floras (27), following in the footsteps of (24), marine biology (24), literary criticism (23), sketchbooks (23), artists (22), quilt history (22), Arizona (22), folktales (22), naturalists (21), Sierra Nevada (20), the writing life (20), psychotherapy (20), classical literature (20), Sonoran Desert (20), geology (20), Hawaii (19), anthology (19), psychology narrative (18), gallery of photographs (18), fantasy (18), historical research (17), folklore (17), folktale analysis (16), renovation/building narrative (16), naturalists at work (16), spiritual life (16), quilt patterns (16), gallery of quilts (16), dictionary (15), local history (15), travel guides (15), butterflies (15), Italy (15), maps and mapmaking (15), writing lives (15), herpetology (14), letters (14), neuroscience (14), literary history (14), France (13), England (13), William Shakespeare (13), Grand Canyon (13), topography (12), philosophy (11), mythology (11), Owens Valley (11), natural philosophy (11), shrubs and trees (11), collectors and collecting (11), behavior (11), art appreciation (11), Henry David Thoreau (10), Greeks (10), plays (10), rock art (10), dreams and dreaming (10), observation techniques (10), feminism (10), Mojave Desert (10), English literature (10), ethnobotany (9), ethnology (9), chronic illness (9), time (9), history of science (9), historical archaeology (9), history (9), cabinets of curiosities (8), paper (8), Western North America (8), orchids (8), avifauna (8), Greece (8), Jane Austen (8), keeping a nature journal (8), interior decoration (7), illustrated novels (7), ichthyology (7), book collection (7), pollination ecology (7), arachnology (7), visual perception (7), Rocky Mountains (7), folktale interpretation (7), canoes and canoeing (7), New Mexico (7), sexual abuse (7), atlases (7), astronomy (7), modern folktales (7), seaweeds (6), river guides (6), lexicography (6), homesteading (6), gallery of paintings (6), Death Valley (6), cacti (6), meditation (6), care and feeding (6), animal intelligence (6), Scotland (6), nests and eggs (6), ravens (6), animal tracks (6), signs and symbols (6), libraries (6), pilgrimages (6), antiques and collectibles (6), Washington (6), Utah (6), birding (6), memory (6), shells (6), language (6), Pacific Coast (6), Tuscany (5), American history (5), magic and magicians (5), psychoanalysis (5), medicine (5), coral reefs (5), scientific illustration (5), shrines (5), creativity (5), aging (5), world history (5), Baja California (5), gallery of artworks (5), domestic interiors (5), sense of place (5), bookmaking (5), annotated versions (5), fabric (5), reading lists (5), haiku (5), bookstores (5), color (5), Mexico (5), Samuel Johnson (5), plant ecology (5), archaeoastronomy (5), museums (5), architecture (5), Italian literature (4), cultural studies (4), Joseph Cornell (4), Silk Road (4), intertidal zone (4), craft techniques (4), spiders (4), nesting behavior (4), Asia (4), Massachusetts (4), walking (4), ants (4), alphabets (4), eccentrics (4), Zen Buddhism (4), Hebrides (4), happiness (4), Nevada (4), almanacs (4), mines and mining (4), literary research (4), folk art (4), fortune telling (4), music (4), catalogue (4), recovery (4), Buddhism (4), animal architects (4), Gulf of California (4), farming (4), Colorado Plateau (3), Geoffrey Chaucer (3), Great Britain (3), Henry James (3), Corfu (3), crows (3), forgery (3), foxes (3), pacific coast (3), Provence (3), Texas (3), navigation (3), oral history (3), fungi (3), saints (3), ruins (3), conservation (3), material culture (3), Colorado (3), George Eliot (3), Marco Polo (3), decipherment (3), reading guides (3), true crime (3), medical pathology (3), moths (3), food industry (3), geography (3), Japan (3), blindness (3), Connecticut (3), painting (3), owls (3), commerce (3), cooking (3), bees (3), wildlife (3), knitting (3), communication (3), agriculture (3), calendars (3), Colorado River (3), altars (3), Great Basin (3), mountain lions (3), biographical dictionary (3), children's cookbooks (3), hummingbirds (3), optical science (3), dunes (3), medieval history (3), dragonflies (3), ghost towns (3), felids (3), hawks (3), beetles (3), bats (3), urban wildlife (3), basketry (3), sense perception (2), autism (2), Spain (2), Maryland (2), Aven Nelson (2), heirloom crops (2), religion (2), Gila River (2), grammar (2), evolution (2), batik (2), hieroglyphs (2), death (2), South Pacific (2), writers (2), do-it-yourself (2), tomatoes (2), Homer (2), Elizabeth Barrett Browning (2), Laura Ingalls Wilder (2), Sylvia Plath (2), Europe (2)

Clouds

Media

Joined

Nov 9, 2006
About My Library

Much natural history, accumulated over a lifetime of looking at plants, birds, insects, and mammals. Much biography and memoir, most of it purchased twenty to thirty years ago. Idiosyncratic tastes with a strong preference for nonfiction. Love folktales, books about books, and the poetry of Billy Collins. Selective reader of mysteries--neither too gory nor too suspenseful, please--and will happily reread my favorites (Michael Innes, Rex Stout) until the bindings crack and the pages fall out. I keep a reading journal/commonplace book but not a diary. Mother, paternal aunt, and sister were all librarians, and I (almost) never write in books.

About Me

Retired botanist and sometime writer, now a watcher of wildflowers, birds, butterflies, and solstices. Obsessive note-taker out of doors. Peruser of historical archives, photographer of petroglyphs. Ecstatic gardener, pretty good cook, lousy housekeeper. Now living in the Eastern Sierra Nevada, California, a most interesting place that has reawakened my sense of curiosity.
Member Connections
Friends
This site uses cookies to deliver our services, improve performance, for analytics, and (if not signed in) for advertising. By using LibraryThing you acknowledge that you have read and understand our
Terms of Service and Privacy Policy
. Your use of the site and services is subject to these policies and terms.