Folio Archives 65: The Laws of Oleron, Admiralty Court – Limited Edition Facsimile 1960
Join LibraryThing to post.
This topic is currently marked as "dormant"—the last message is more than 90 days old. You can revive it by posting a reply.
The Laws of Oleron, Admiralty Court – Limited Edition Facsimile – Private Commission 1960
In the history of the Folio Society, it has only published four books that have been privately commissioned. They were:-
- The Earliest Chemical Industry (1948) – reviewed
here.
- Art of the Book (1951) – reviewed
here.
- Laws of Oleron (1960) – this review
- Jayant Madhvani (1973) – reviewed
here.
I am fortunate enough to own them all.
This is a facsimile copy of the 35 laws of Oleron that were published in 1260 as they appear in The Black Book of Admiralty and includes a laid-in list of subscribers who financed the publication. Only 200 copies were printed and mine is number 90. It is a true FS curiosity, and is very difficult to find on the secondary market as most copies are held by the institutions who subscribed for its publication.
Oleron is a small island on the Atlantic coast of France near La Rochelle and just North of Bordeaux. The Laws of Oleron were the first form of maritime law ever published and were initially promulgated by Eleanor of Aquitaine after her return from the Second Crusade.
Oleron was the site of the world's first maritime court, established by the Atlantic Seaman's Guild. They were initially published in French (as is this facsimile), and only later in English.
It was printed by Chiswick Press for the FS with colour and black and white frontis on heavy paper. It is bound in green cloth boards with a gilt cover title, but no spine title. There was no slipcase or dust-jacket. The title page is a glossy photograph of a specially commissioned calligraphic manuscript. There are only 32 pages in a book that is 26x18cm.
The full text of the book can be read in modern English here:-
http://www.admiraltylawguide.com/documents/oleron.html
Interestingly, the FS facsimile of the 1260 edition contains only 35 laws, but there are 47 in the 1266 text translated above, the added ones mainly relating to piracy, wreckage and the stranding of great fishes (whales). Law number 35 in the facsimile is written in the margin in a non-calligraphic hand (see photo below).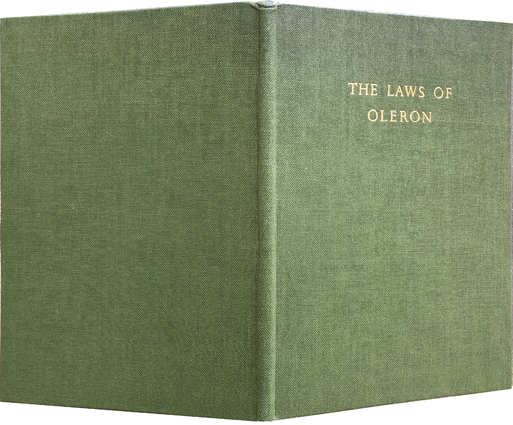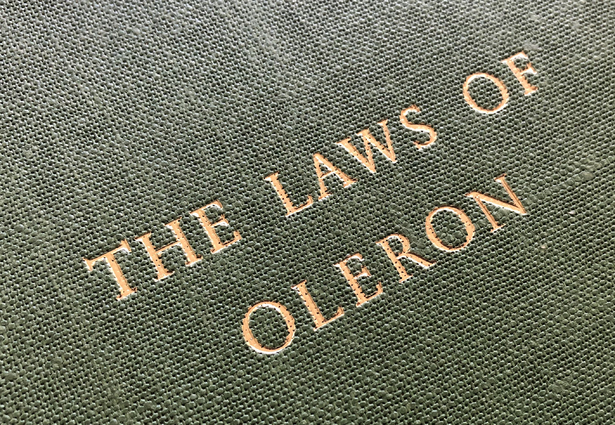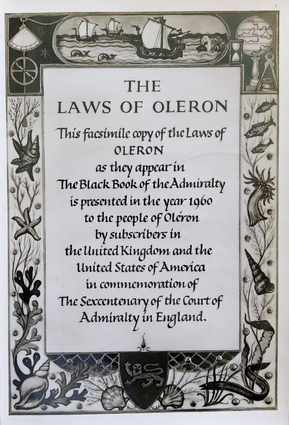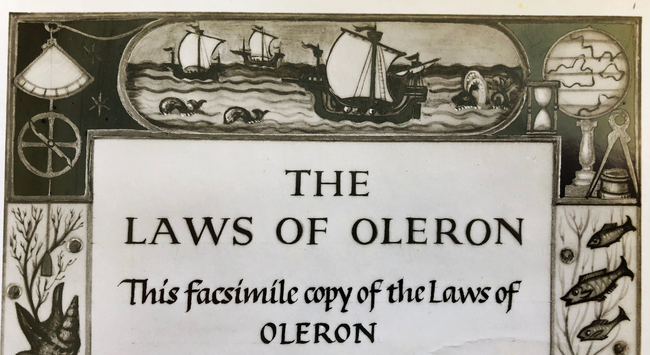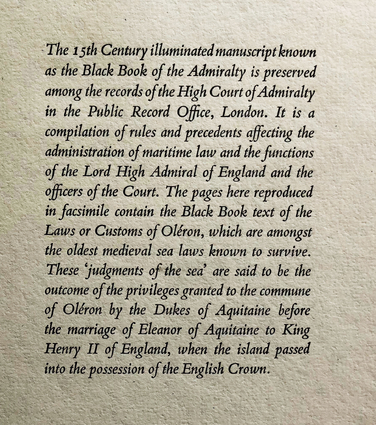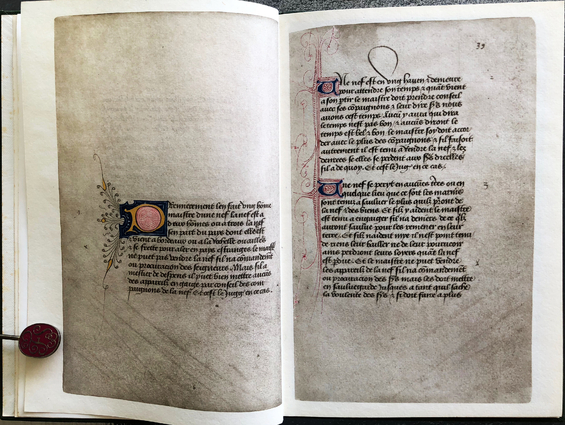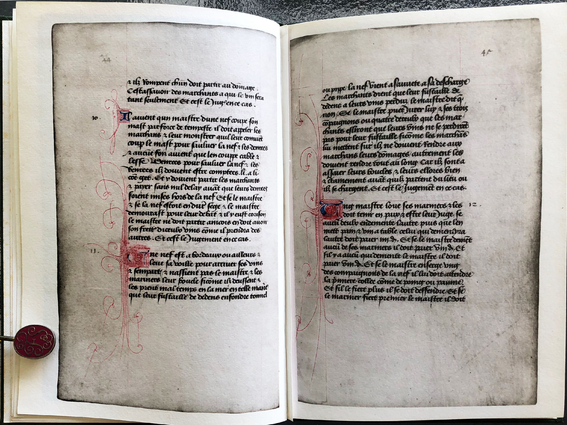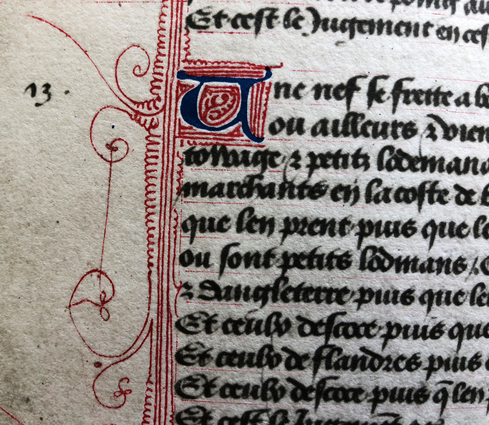 Note: Law 35 written in margin.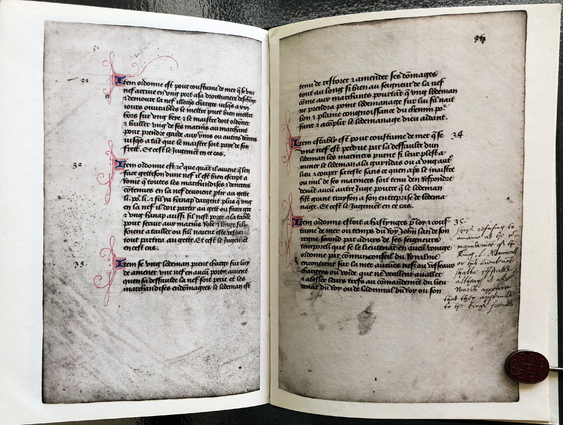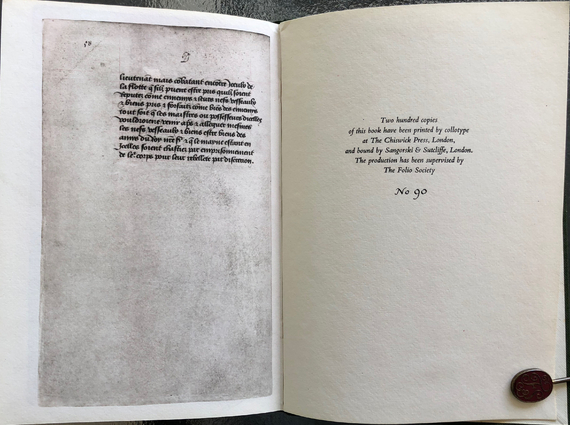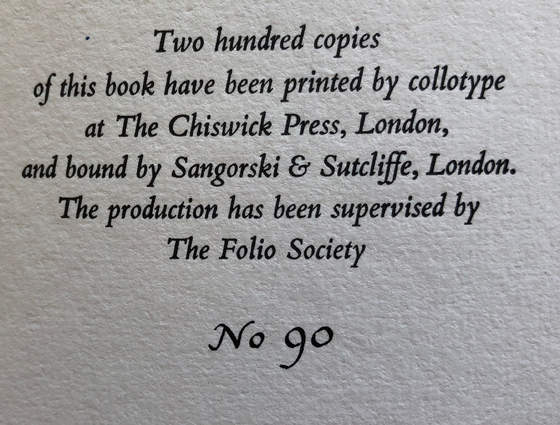 Laid-in leaflet listing subscribers to the publication.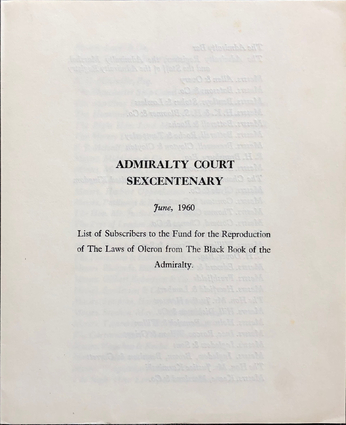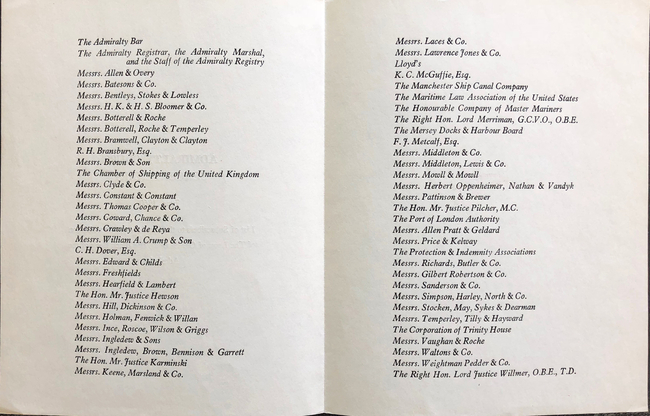 An index of the other illustrated reviews in the "Folio Archives" series can be viewed
here.
Very interesting, Warwick. I'd heard of it before but never actually seen a copy, or even photographs. I can now say I'd be very pleased to have a copy in my collection, unlikely though that may be given the limitation and the circumstances you refer to. The only one of the privately commissioned books I own is Charles Ede's The Art of the Book.
A fascinating genuine rarity - I have to say I have never seen a copy.

I have fond memories of the Ile d'Oleron - when I was 15 I had a week-long cycling and camping holiday on the island with a French pen-pal (who was also 15). One of my sons is now 15, and I have to say that sort of thing seems unthinkable today.
As a fond reader of O'Brian's Aubrey-Maturin novels, I appreciate knowing of this as a curiosity of maritime law. Thanks for this thread, and it does appear to be a truly lovely book.
>2 folio_books:
Challenge duly accepted! There indeed was a copy available on Abe, however with no mention of Folio Society in the listing.
I wonder how long the copy had been sitting with the seller, who gracefully accepted to both a reduction in the price as well as free shipping.
Now number 119 is paddling its way to France (not the Ile d'Oleron though).
>1 wcarter:
Thank you Warwick for the always interesting revisit of the older curiosities of FS.
>5 F.Trier:
Challenge duly accepted! There indeed was a copy available on Abe,
Well spotted :)