Folio Archives 138: The Surinam Album LE by Maria Sibylla Merian 2006
Join LibraryThing to post.
This topic is currently marked as "dormant"—the last message is more than 90 days old. You can revive it by posting a reply.
The Surinam Album limited edition by Maria Sibylla Merian 2006
This is one of the Folio Society's massively humungous facsimile editions that weighs over 12Kg., and it is magnificent!
Maria Sibylla Merian (1647–1717) was a German illustrator turned naturalist who had a particular interest in insects, and was the first to determine the life cycle and metamorphosis of many species. She moved to Amsterdam when aged 44, and in 1699 travelled to the Dutch colony of Surinam in northeast South America to study and draw tropical insects. The result was 91 plates that were the first accurate record of many insects and plants from the region, and these plates now form the Surinam Album.
The 91 plates in the facsimile are printed full size on paper that is tipped onto the recto pages of the facsimile volume. Three loose art prints are also enclosed in a separate envelope, along with an 87 page commentary volume that gives the history and background of the drawings and the artist, as well as describing every plate individually.
The dark green solander box houses both volumes and the loose prints, and is 57x39.5x11.5cm. The limitation was 1000 copies, and the original price was £590.
The facsimile volume is quarter bound in dark green leather with image decorated light brown cloth sides. The commentary volume by Julie Harvey is bound in dark green cloth, has map endpapers of Surinam and a pictorial frontispiece.
Two brochures from the FS promoting the Surinam Album can been downloaded from the FSD wiki
here.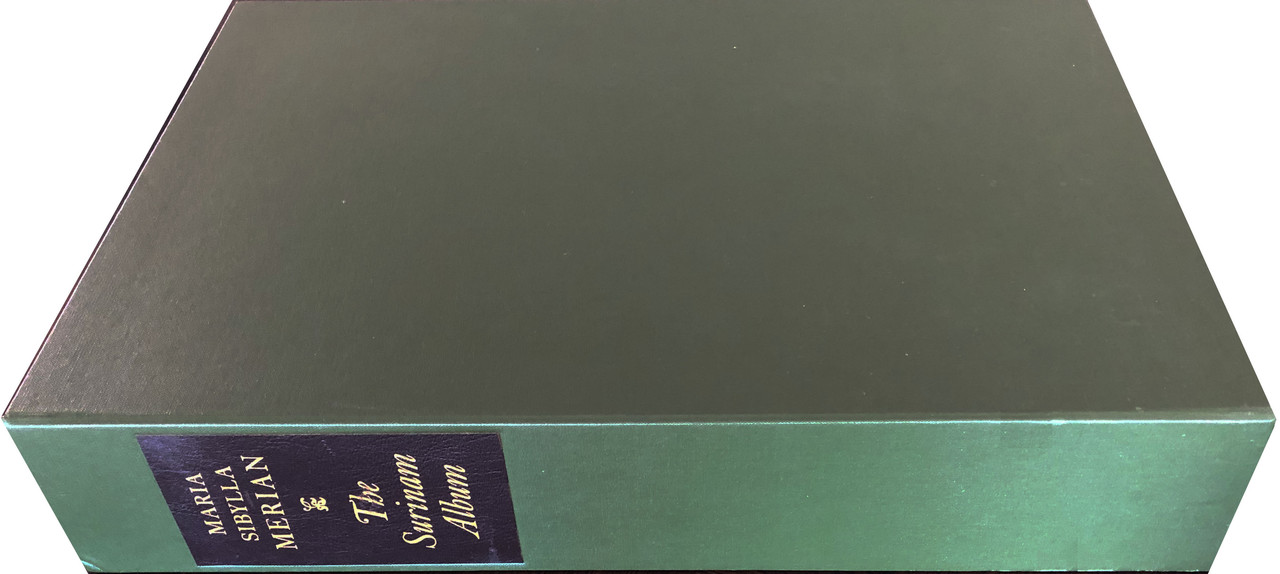 Solander box open with facsimile volume, commentary volume and three loose prints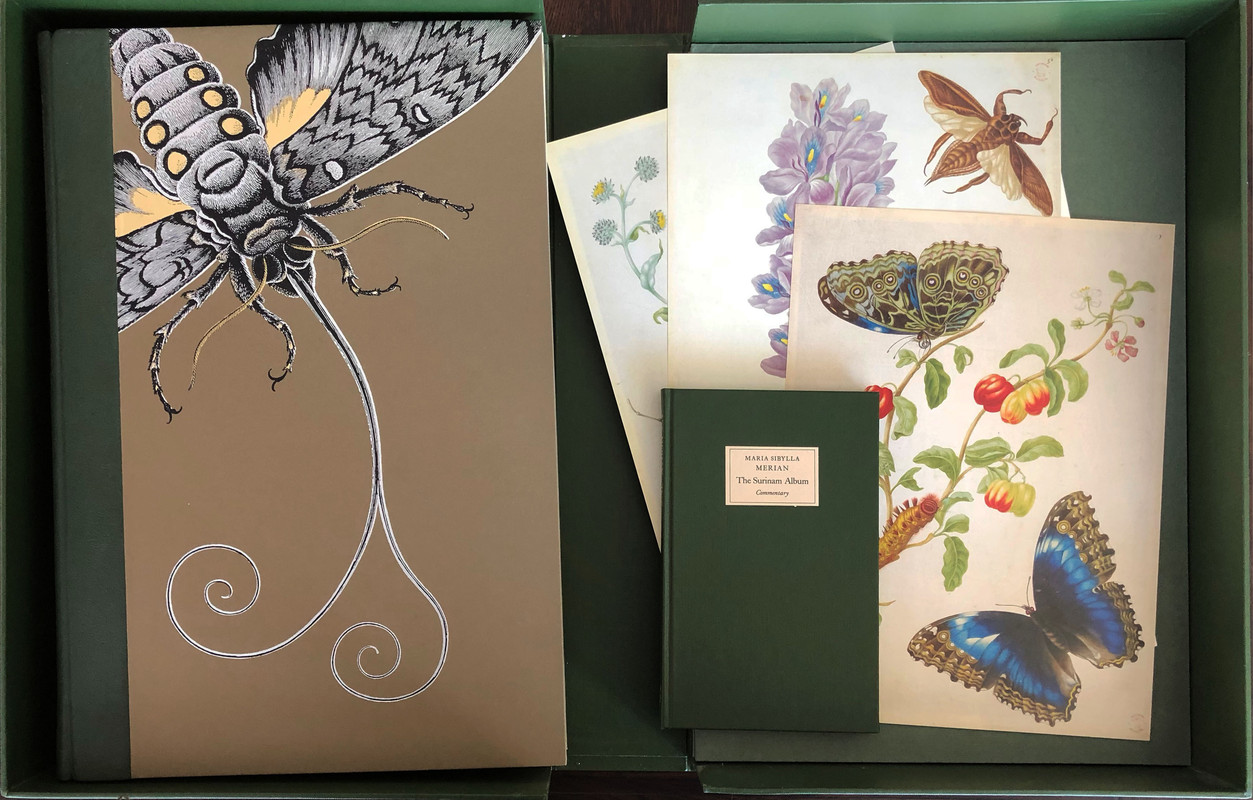 Facsimile volume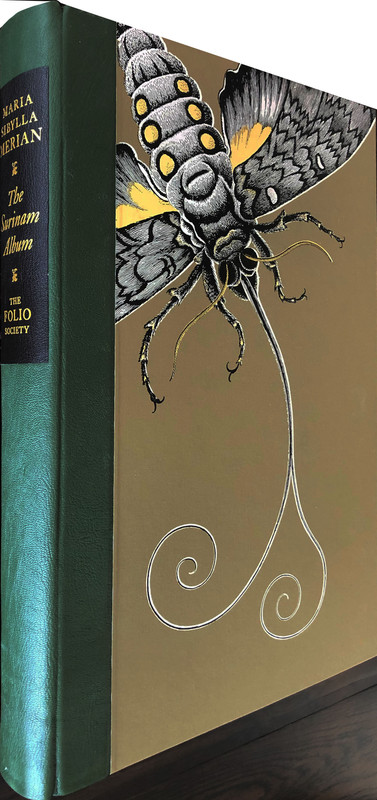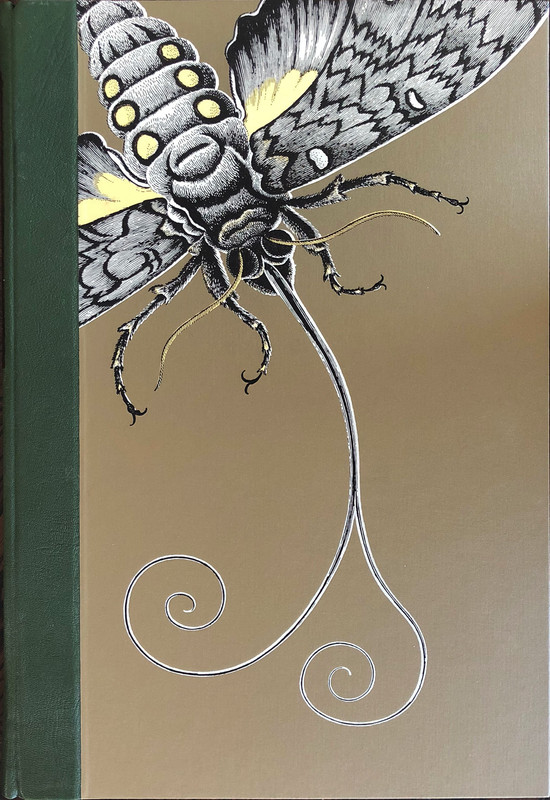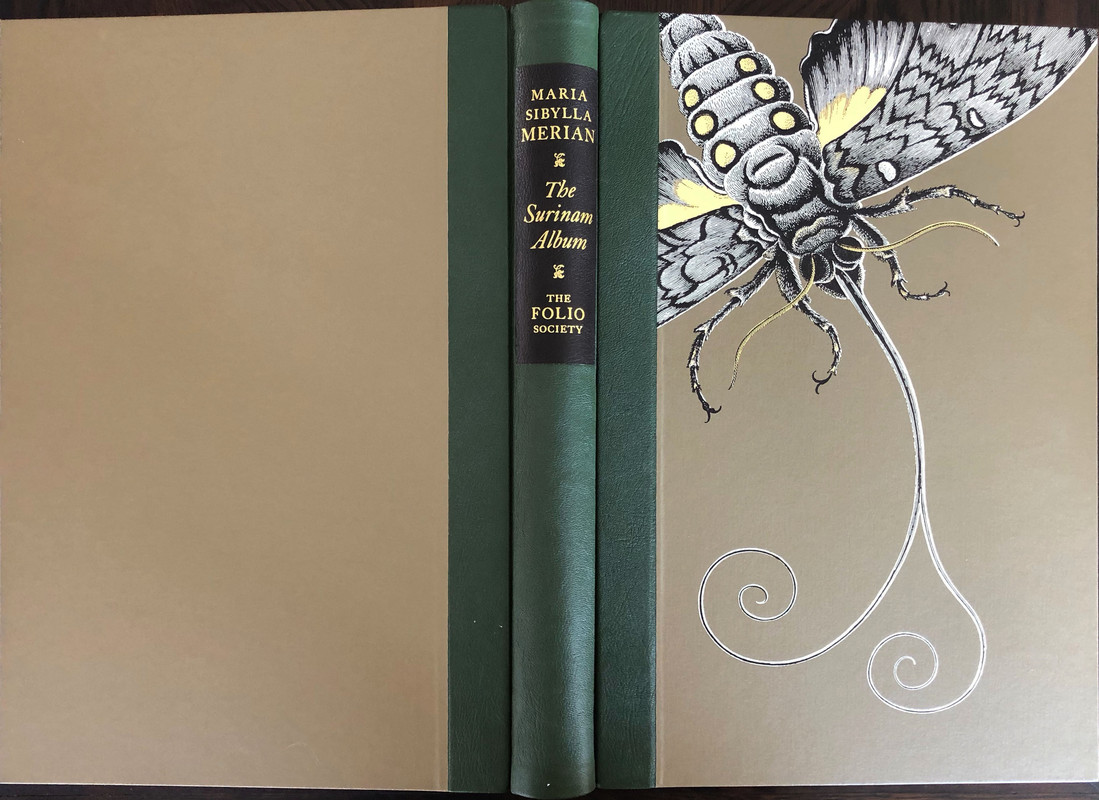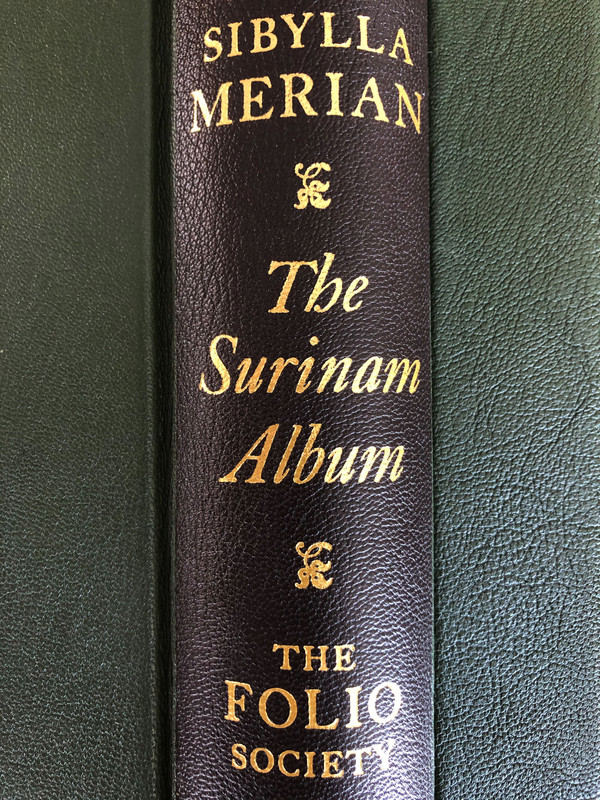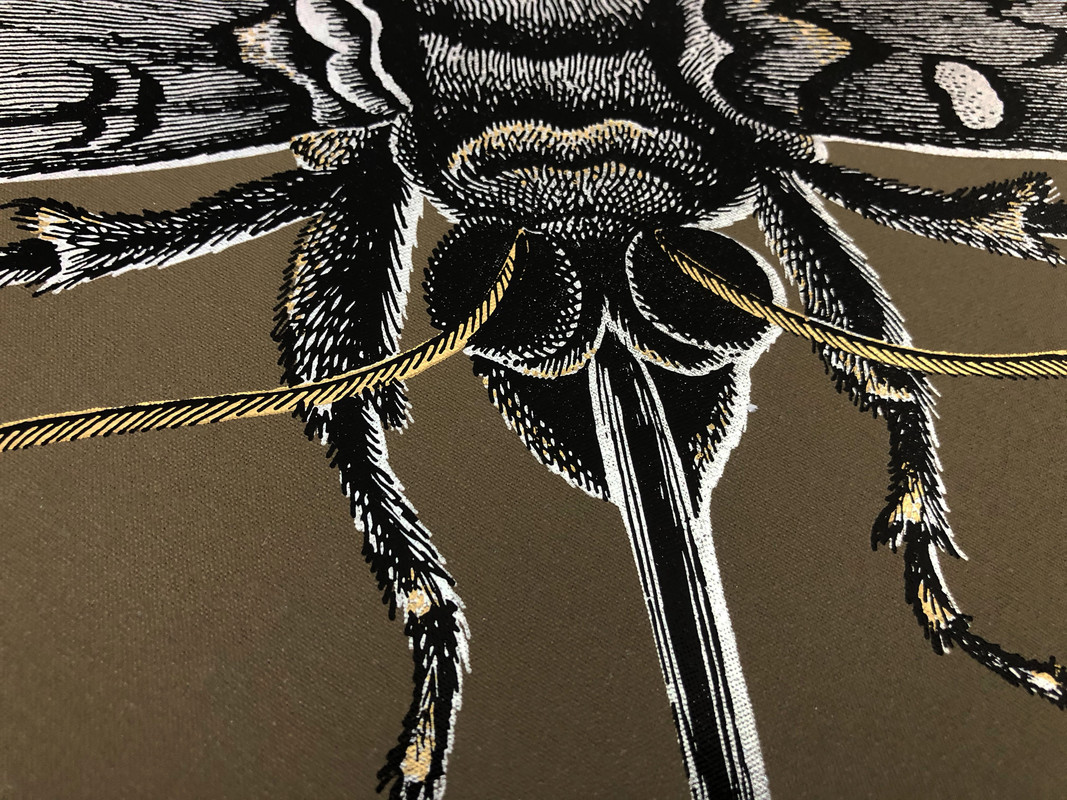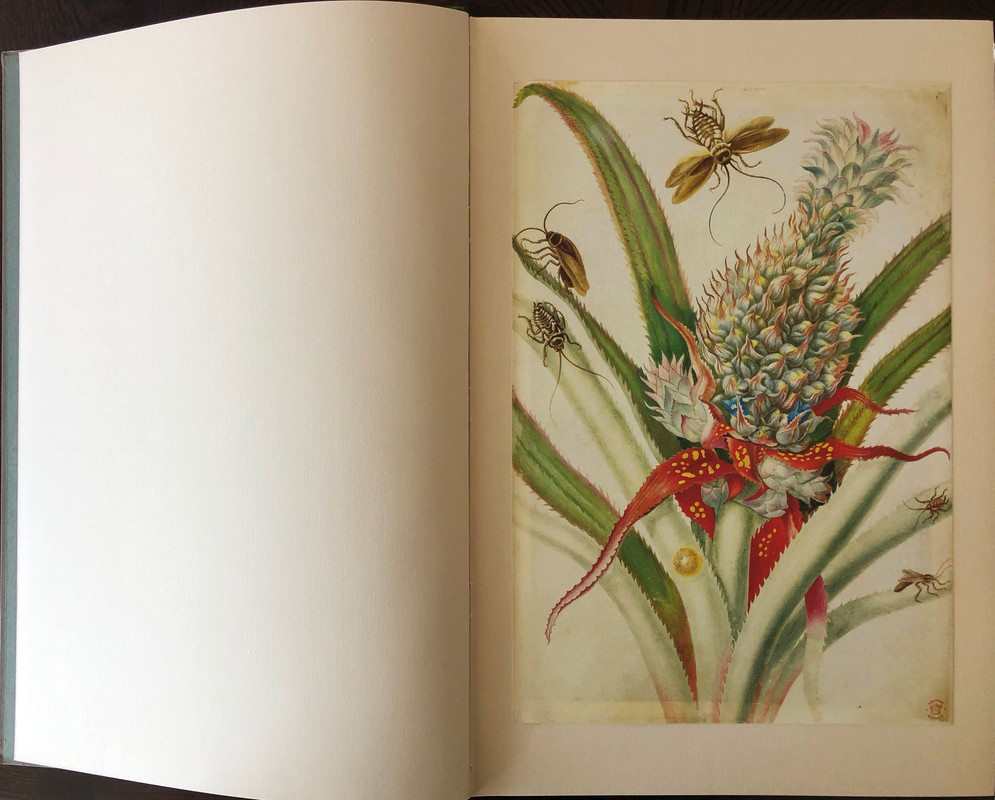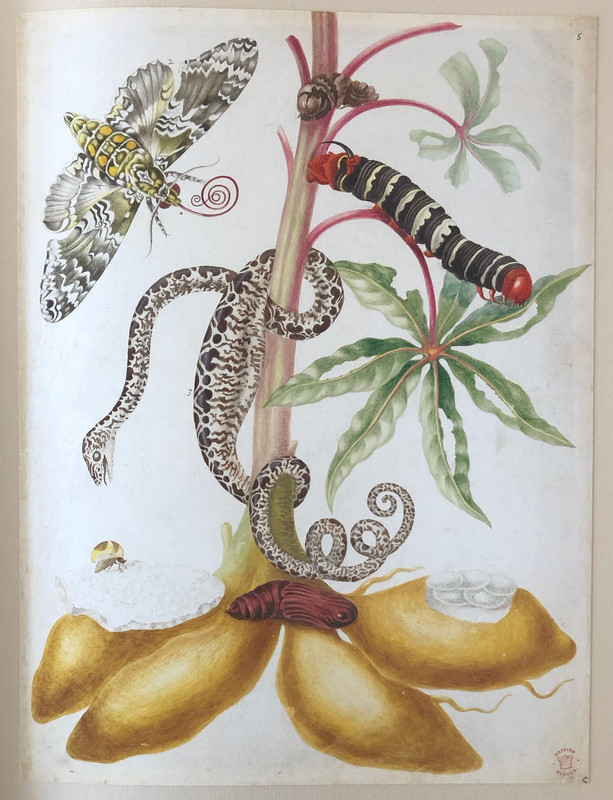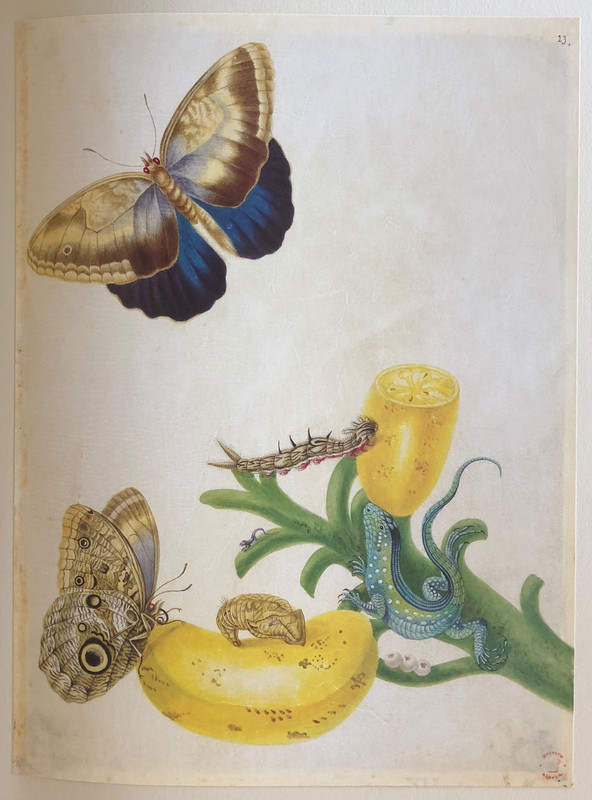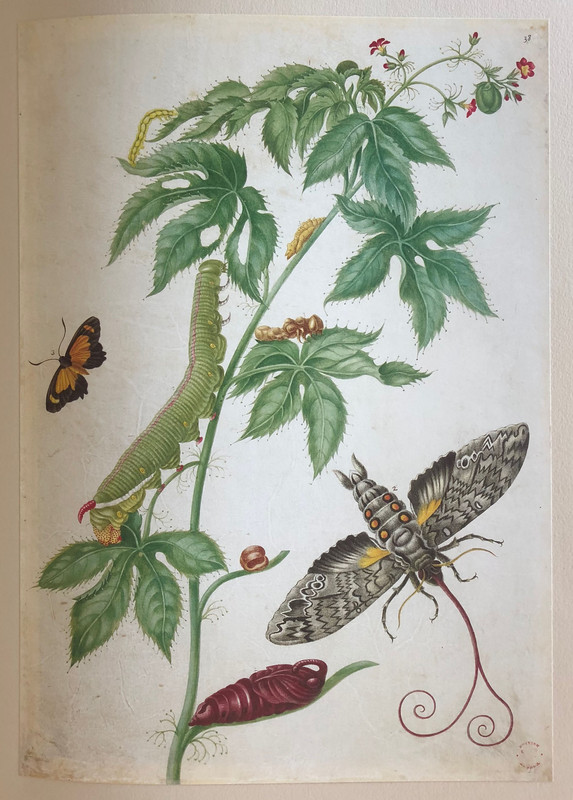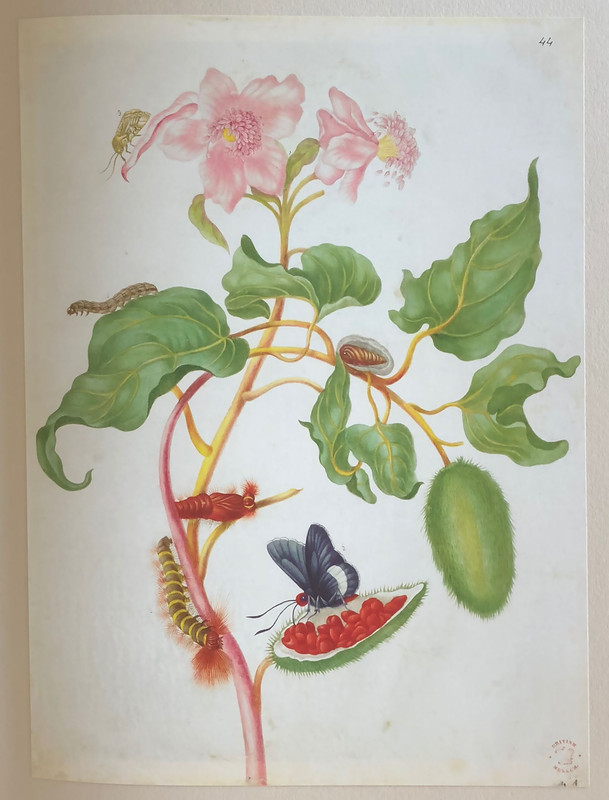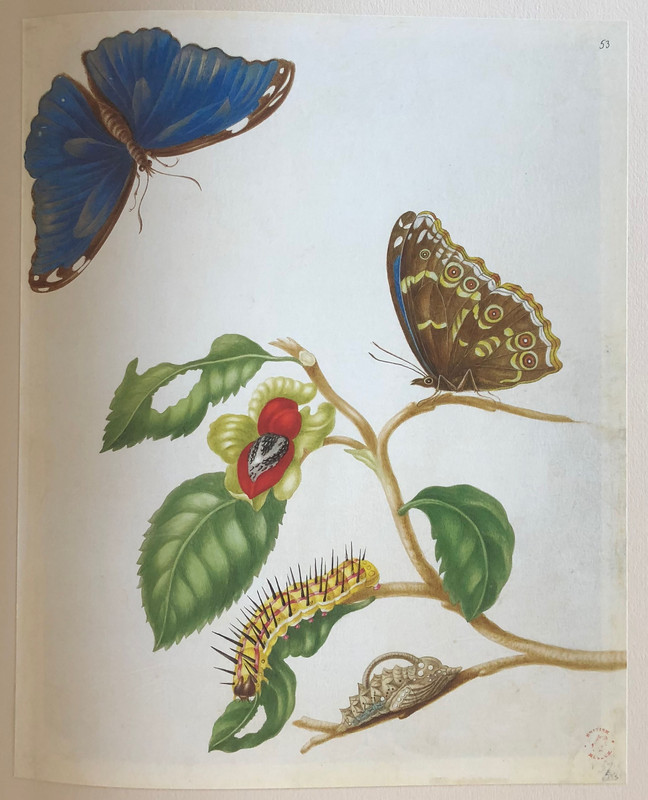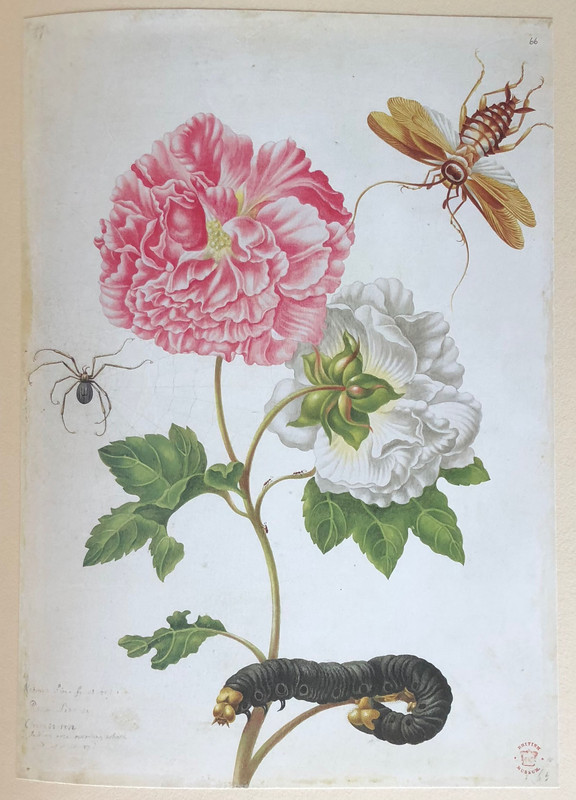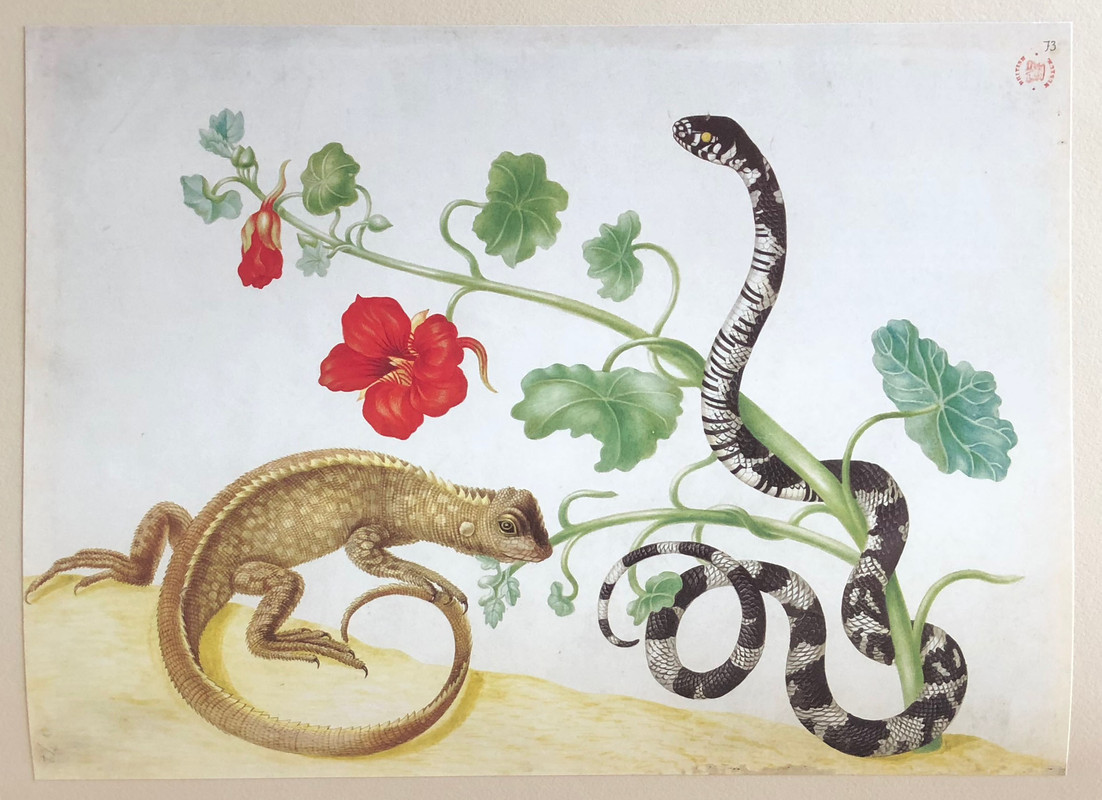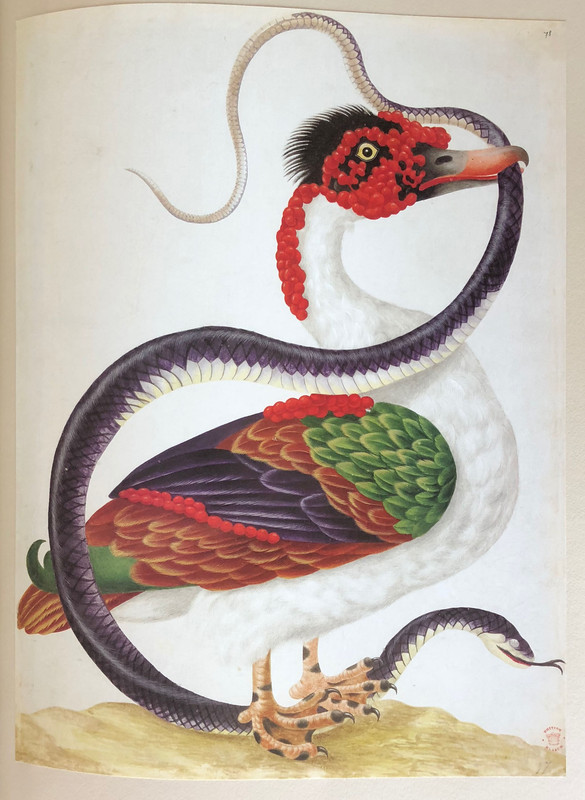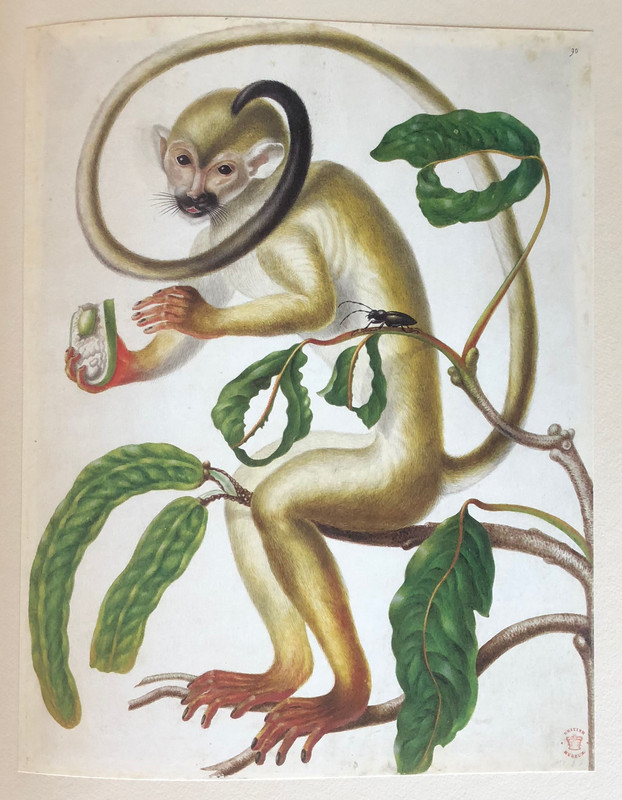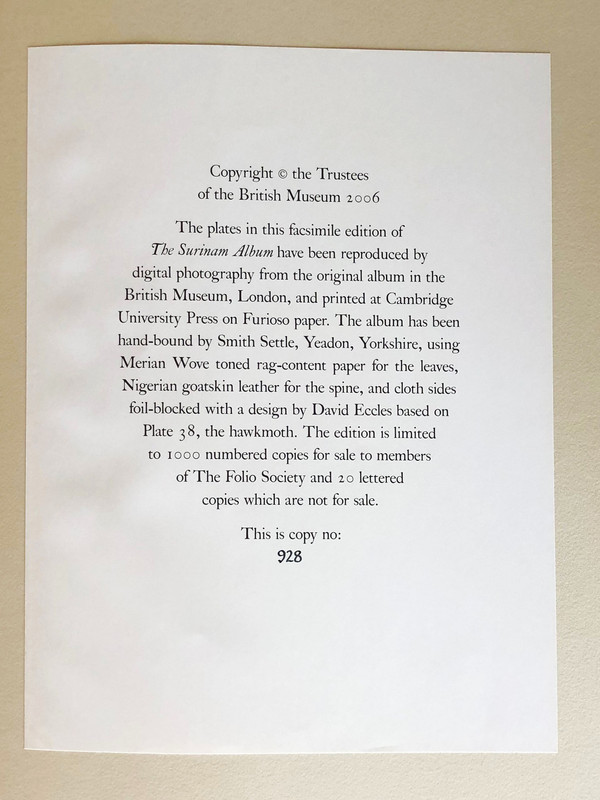 Commentary volume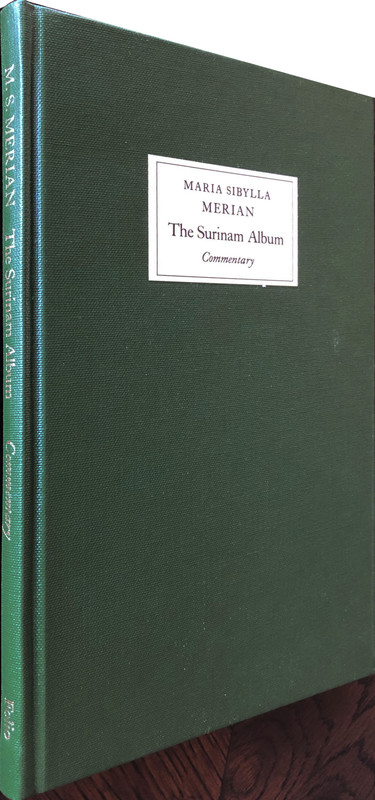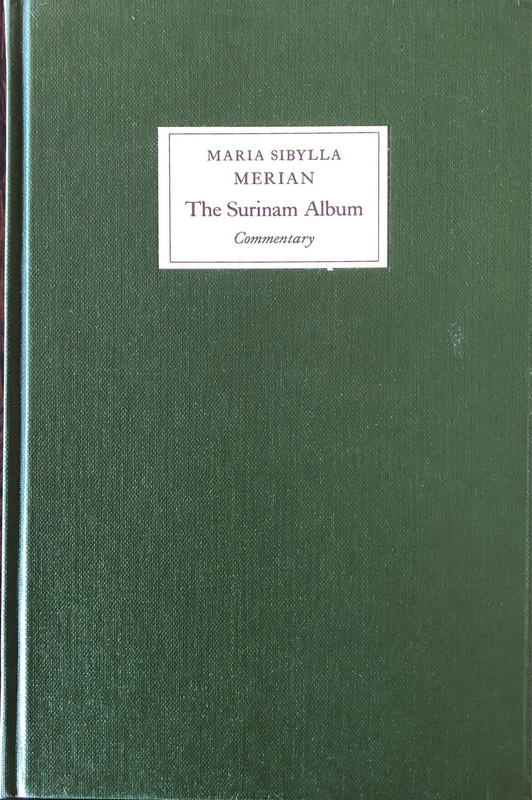 Commentary volume endpapers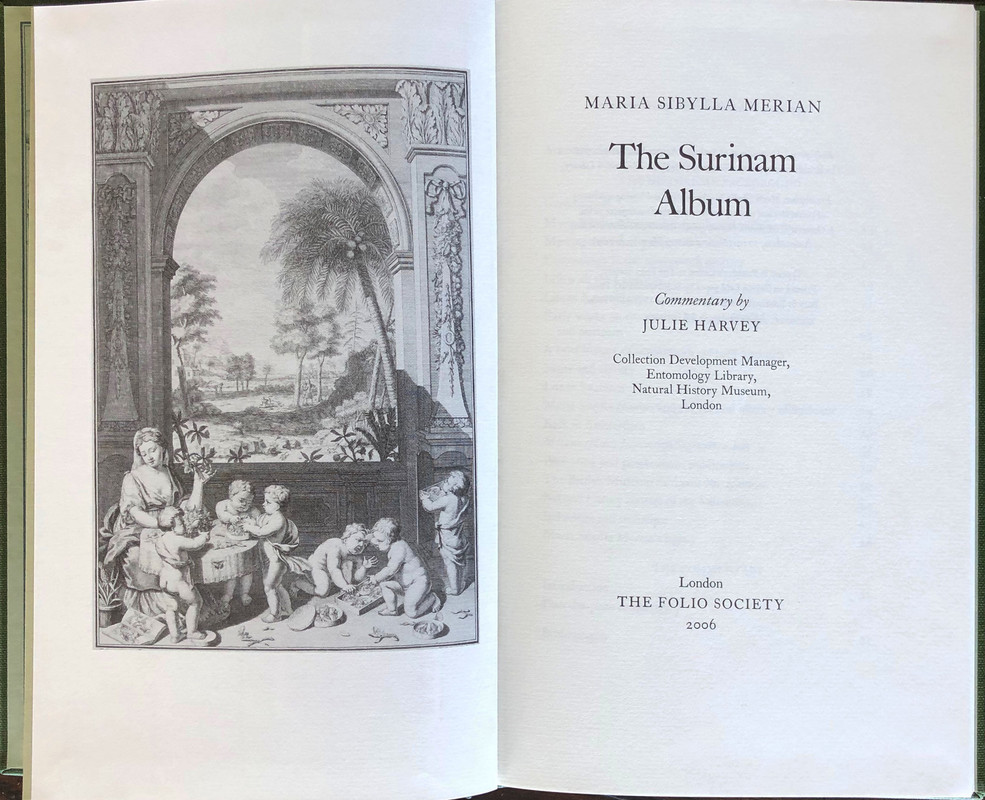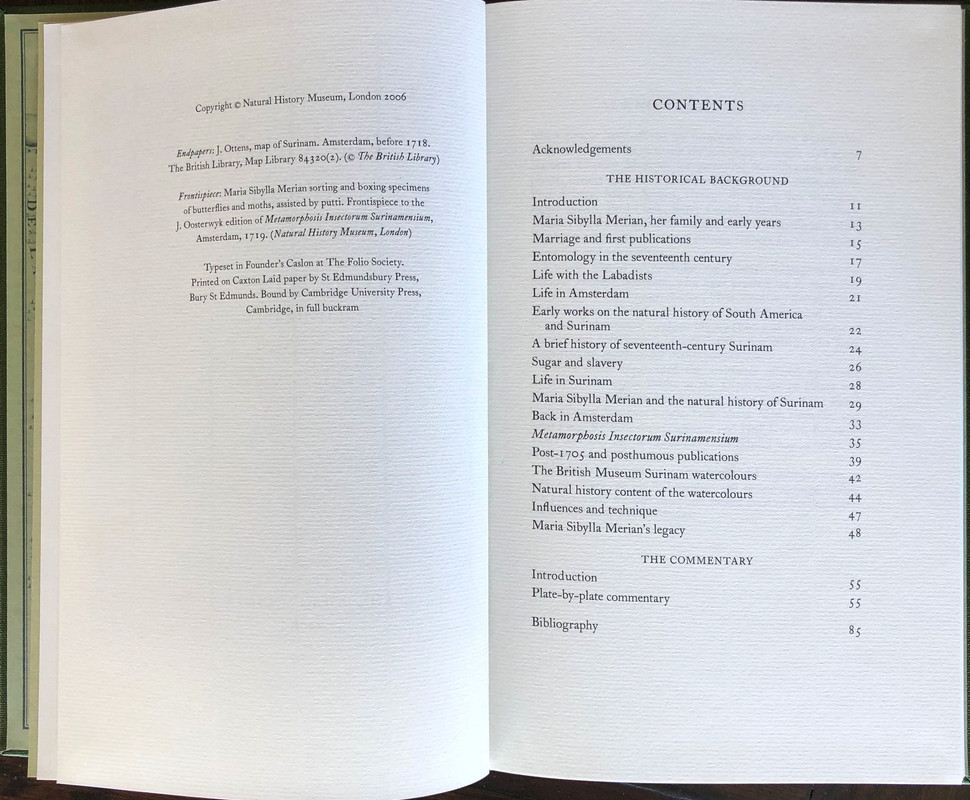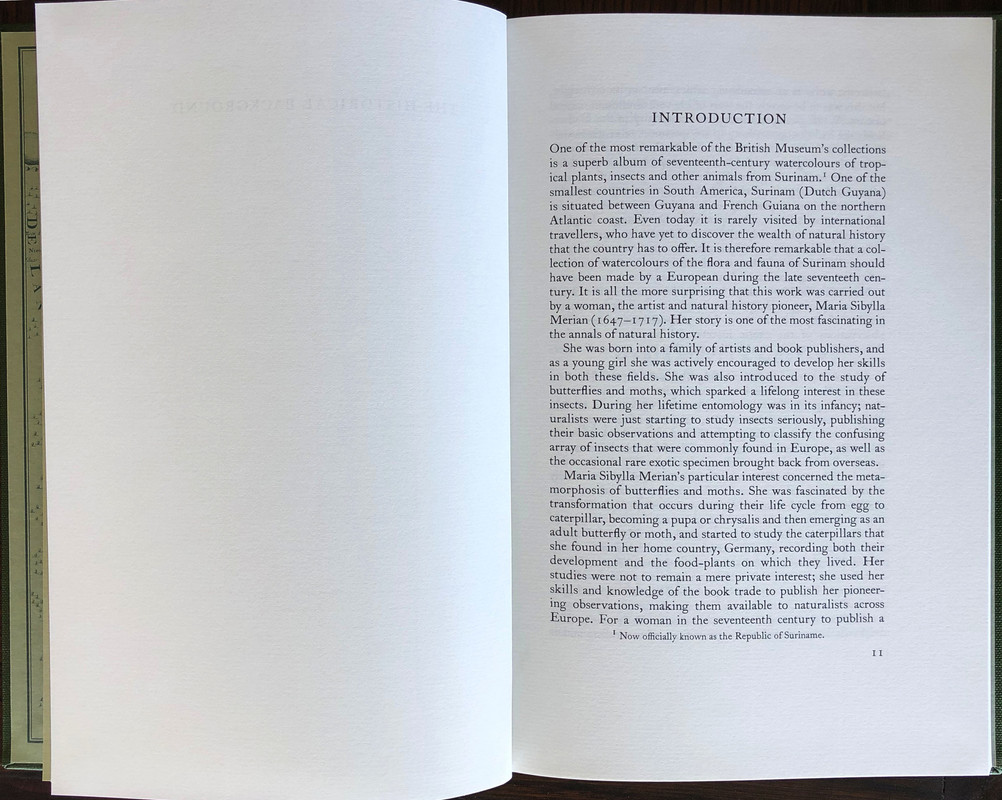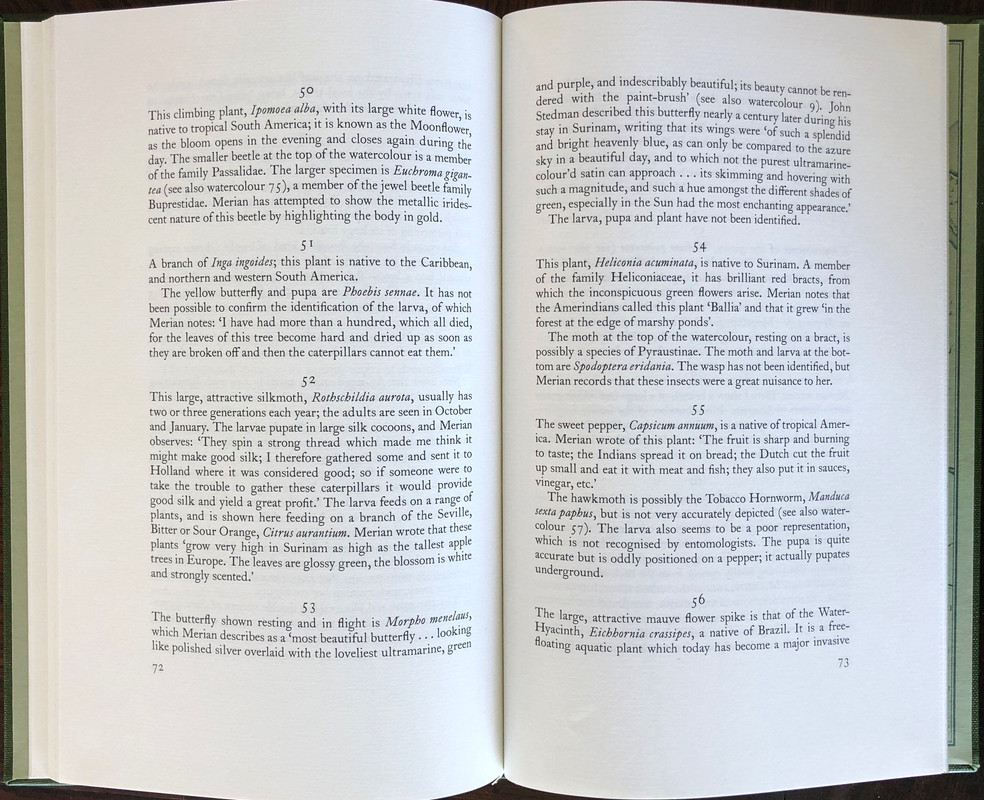 An index of the other illustrated reviews in the "Folio Archives" series can be viewed
here.
Sadly it is too massively humungous for even my massively humungous Folio Society shelf, so remains destined never to form part (should I say a massively large part) of my collection. Looks nice, though.
I've always hankered after that one. I saw some loose sheets of her paintings at a book fair in Switzerland; they were in a presentation folder published by a bank and were probably a gift for good customers. I keep looking out for them, hoping they will turn up again and that I'll be able to afford them...
I didn't give this much consideration when it was published, but I'm moved to do so now. It helps, no doubt, that a fine copy can be had at around or a little below the price 13 years ago. Probably more significantly, back then editions of this order were something the Folio Society did: not so much of late, and I'm less drawn to their current and likely future projects. Plus, it could have a shelf to itself here if one of the five LEs that have shelves to themselves were to stand vertically instead, and Blake's Gray is one of those five and it wouldn't much object to standing up.

In short, I'm reminded of something quite wonderful that I'm missing. Completion of the sale of our former home seems to be nearing: perhaps I'll hold out until the proceeds arrive then mark the occasion with a purchase.
I have to confess that it's an LE from which I don't derive much pleasure. It's not only large, but also very heavy, and a chore to take from its high horizontal position on my shelves.
At the time FS hinted at its value as an investment, referring to the increased market value of earlier LEs, and including 3 separate prints to save you from the temptation of removing tipped-in plates for display on your library walls, or for sale at the inflated current prices they suggested for individual prints. I don't think the book has retained its original value. It is beautifully produced, but unless you have a particular interest in the subject matter, not something you're likely to return to often.
>6 Jayked:
I just browsed through the brochures and you're entirely right: it was quite aggressively marketed as a quick seller. Currently, there are copies available at 350€, roughly half the RRP. It looks gorgeous, but chances of it being shelf decoration are high as you said...
I first came across the work of this remarkable woman by accident on a visit to Amsterdam in the spring of 2008. Making a pilgrimage to the Rembrandt House Museum, I found not much Rembrandt but a luminous exhibition Maria Sibylla Merian & her Daughters: Women of Art and Science, and was rather blown away. (The exhibition transferred to the J. Paul Getty Center later in the year.) By the time I thought of acquiring this LE it was OOP, and I had to pay a small premium, but got a lettered copy. Unlike
>6 Jayked:
, I'm not at all jaded about the book, and it remains a firm favourite, kept on a shelf where I can get it without being in danger of being crushed. There is a biography by Kim Todd, rather breathlessly admiring, but nevertheless interesting
Chrysalis: Maria Sibylla Merian and the secrets of metamorphosis
>6 Jayked:
Thank you for that impression, I'll certainly investigate the book further and reflect on how much time I would be likely to spend with it in advance of any decision to acquire a copy. Fortunately my horizontal LE accommodation isn't at a daunting height.
I look through my copy about every 2 years and thoroughly enjoy it. Sits on a low shelf which presents it's own difficulty in handling, possibly the shelving can be reconfigured to put it waist high. I know nothing about it, but a full sized edition of Metamorphosis Insectorum Surinamensium was published fairly recently at a more affordable price.
>10 olepuppy:
Do you mean the one from 2016, in German by Lambert Schneider, in other languages by other publishers? If so, I was able to compare it and the one by FS and they're not the same. It's been almost three years, but the way I remember it, the FS reproductions were generally higher quality, I think there were a few more of them, and they were also generally different. If I remember it correctly FS used the original watercolours, while the other edition reprinted a book with hand coloured prints. The commentary on each image was really good for the Lambert Schneider book, but otherwise the two publications are really not on a par.
Unfortunately, a certain lack of quality goes for other (expensive) Merian fascimiles of complete books that FS unfortunately never tackled. I saw one or two where they didn't even manage to get the images crisp and clear, they were all slightly blurry. I can't remember the titles, but one was based on a unique original that's in Russia these days.
I do wish FS did more of her work. She did show up in a poll a while ago, but current limited editions tend to go in another direction.
>11 SF-72:
Thanks for the info about the Lambert Schnieder edition, which is indeed the book I saw at Amazon for a hundred bucks new, which seems a good buy for anyone interested in the subject, even if the production is not FS quality. And you're right that The Surinam Album illustrations comprise not only the 60 from Metamorphosis Insectorum Surinamensium but also another 30 of Merians' from Surinam that she did not include in the original book.