Middlemarch Relationship Map
Join LibraryThing to post.
This topic is currently marked as "dormant"—the last message is more than 90 days old. You can revive it by posting a reply.
If you're like me, you find yourself confused over all the characters in some of these big novels. I find that a relationship map can be very helpful. I created this map of the character's relationships based on the information I found on the Middlemarch Character List page at Sparknotes.com. I've only read the first three books, so I can't guarantee that all of this info is 100% correct. Also, if you're super-sensitive about spoilers, this does show the relationships between characters (being a relationship map), so consider yourself warned (personally I don't think anything major is revealed here, but that's just me). Also, I apologize for the tiniest writing--if you can't read something you can ask me or go look it up at Sparknotes.
To see the map, click on the thumbnail. A new window will open. Hope this helps!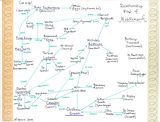 This is great, Nickelini, thank you so much! It must have taken a lot of work, but I'm sure it will be very helpful.
Well, while I'd like to say that it was "soooo difficult" and "aren't I just a genius," actually it only took about an hour. I got it on my third draft. I tried to do a relationship map for
Bleak House
a few months ago, and I never could get a readable version. That book has a lot of characters who are all related to each other some how. Any map I tried was just a tangle of lines.
Middlemarch
was much easier, as there are spheres of relationships. Mind you, I worked from SparkNotes, and if they left things out I wouldn't know to include them. Maybe by the end of the book I'll have to make a revised version.
Thanks Nickelini. You did a great job on the character map. I've printed myself a copy to keep with my book. It is easy to see why it was so difficult to keep all the individual characters separate in my mind when the web of relationships is revealed visually. One relationship that is not noted is Joshua Riggs is the step son of John Raffles, business partner to Nick Bulstrode. SparkNotes mention that Eliot's intention is to show us how lives intersect and cross just like a spider's web.
>1 Nickelini:
, Nickelini - Damn, nice work! Thanks so much for this.
#1 Hi,
Thanks a lot for the map. I just printed it out and I think it'll be very useful in my further reading of
Middlemarch
. What a web!
:-)
Thanks, Socialpages, for the note about the Riggs-Raffles relationship. If anyone else finds any errors or omissions, feel free to post them here. If we gather enough, I'll make a revised version. I found one myself last night--the auctioneer, Trumbull, is a second cousin to Featherstone.
Have you noticed how many different forms of clergy there are in the novel? It's pretty confusing. Casaubon is some sort of clergy, then there is Cadawallader the rector; Farebrother the vicar; Walter Tyke, the minister . . . I think that may be it. Is anyone else confused about what all these various positions mean? I'm going to have to go reread the chapter on the church in
What Charles Dickens Knew and Jane Austen Ate
.
Nickelini, have you ever tried a mindmapping programme? Ever since I read your post and saw your beautiful relationship map, I mindmapped
Pride and Prejudice
,
Sense and Sensibility
, and
The Buddenbrooks
, and I just love it. I even gave
Bleak House
a try, but as I haven't read it, I had to rely completely on Wikipedia.
Here's what I managed:
You can either write on the lines to indicate their relationship or use different kinds of lines and colours to do that.
RFB- that's awesome! I've actually been looking for freeware to do that, but haven't had any luck. Where did you get the software for it? I used to have a free copy of something called MindMap (I think), but it expired, and I can't find it again. I think I'd use it often enough that I might even pay for the software.

Anyway, your Bleak House connections look about right to me. Good job.
I use yEd. Its a freeware programme I thought I found at download.com (I can't find it there), but anyway you can also download it from their website,
http://www.yworks.com/en/products_yed_about.html
.
My version was German, although I hadn't chosen any specific language when I downloaded it, which makes me think that perhaps its only available in German. Then again, most stuff is pretty intuitive anyway (and if you need a translation of something, ask...)
Just one advice: if you want to add text to the lines, do that at the very end, otherwise it'll end all scambled up and you'll have to change it again.
Fabulous rfb! Beyond me, but fabulous!
#10 Just a digression:
In "The Western Canon. The Books and School of the Ages" Harold Bloom appoints both
Middlemarch
and
Bleak House
canonic novels of 'The Democratic Age' (part III, chapter 13 in my Norwegian edition)