MemberRalphEllison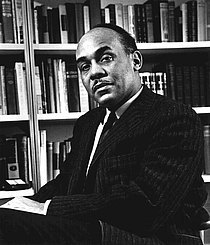 Books

1,782

Collections

Tags

poetry (133), biography (73), fiction (34), non-fiction (23), Autographed by Ralph Ellison (21), autographed by Ralph Ellison (20), literature (20), African American (19), history (14), United States (13), crime fiction (11), Harlem (9), inscribed by author (9), literary criticism (8), psychology (8), mythology (6), psychoanalysis (6), Civil War (5), novel (5), sociology (5), South America (4), travel (4), autobiography (4), essays (4), politics (4), slavery (3), Brazil (3), Greek literature (3), epic (3), letters (3), Los Angeles (3), criticism (3), Literary criticism (3), Henry James (3), violence (2), notebooks (2), James Joyce (2), African-American (2), Russian (2), science (2), Dublin (2), Psychoanalysis (2), Politics (2), economics (2), assassination (1), Edgar Allan Poe (1), labor union (1), Ernest Hemingway (1), limited edition (1), Mississippi (1), Franklin (1), murder (1), labor unions (1), IWW (1), television shows (1), War strategy (1), Kentucky (1), president (1), Christianity (1), algebra (1), French (1), autographed by by Leon G. Cranburn (1), black separatism. bibliography (1), Psychological fictio (1), Negro Segregation (1), pre-WWII (1), Capitalism (1), Judaism (1), Ancient Rome (1), Latin America (1), Correspondence (1), Dickens (1), American (1), Religion (1), Poetry (1), coal miners (1), US history (1), Dostoevsky (1), World War II (1), tragedy (1), writers (1), economic conditions (1), idioms (1), literary techniques (1), New York (1), WWII (1), American history (1), segregation (1), soldiers (1), 18th century (1), 19th century (1), New York City (1), sexuality (1), anthropology (1), stories (1), government (1), French literature (1), spirituality (1), theology (1), France (1), diary (1), historical fiction (1), Paris (1), modern literature (1), comedy (1), language (1), novels (1), English (1), Shakespeare (1), essay (1), Adventures of Huckleberry Finn (1), magic (1), strike (1), drama (1), dream interpretation (1), psycho-analysis (1), FDR (1), memoir (1), reminiscences (1), coal mining (1), Hasidism (1), philosophy (1), founding fathers (1), Abraham Lincoln (1), dreams (1), Lincoln (1), Haiti (1), progressivism (1), African American history (1), italian poetry (1), Melville (1), pyschology (1), Ulysses (1), technique (1), artists (1), military history (1), life voyages (1)

Clouds

Media

Joined

May 4, 2010
Real Name

Ralph Ellison

About My Library

Ellison's library is now at the Library of Congress, and was cataloged from an inventory of that collection.

About Me

Ralph Ellison (1 March 1913 - 16 April 1994), American novelist and literary scholar. I'm best known as the author of The Invisible Man which won a National Book Award in 1953. I also wrote Shadow and Act (1964) and Going to the Territory (1986). I was born in Oklahoma and studied for a couple of years at Tuskegee Institute before going to New York City. I joined the Merchant Marines during World War II. I had several manuscripts in process at the time of my death which were later published.
This site uses cookies to deliver our services, improve performance, for analytics, and (if not signed in) for advertising. By using LibraryThing you acknowledge that you have read and understand our
Terms of Service and Privacy Policy
. Your use of the site and services is subject to these policies and terms.