Black Panther Party 1968 Book List
Join LibraryThing to post.
This topic is currently marked as "dormant"—the last message is more than 90 days old. You can revive it by posting a reply.
Maybe this belongs in "Other People's Books," but I thought it might be worth cataloging if the source holds up.
This is an image of a printed leaflet titled "Black Panther Party Book List" and supposedly dating from 1968. The source is
http://www.itsabouttimebpp.com/BPP_Books/bpp_books_index.html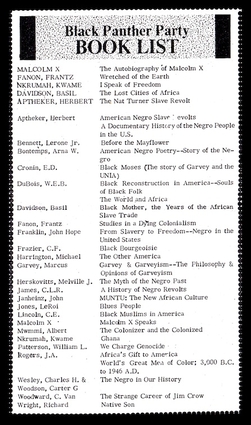 The image is scaled down to illegibility, but FYI the first five titles are:
The Autobiography of Malcolm X
,
The Wretched of the Earth
by Frantz Fanon,
I Speak of Freedom
by
Kwame Nkrumah
,
The Lost Cities of Africa
by
Basil Davidson
, and
The Nat Turner Slave Revolt
by
Herbert Aptheker
.
It's disappointing the post doesn't come with any more detailed provenance than that. The BPP was hardly a monolithic organization, I can't imagine that list is official for everyone except symbolically. If it were a BPP members personal library, or in a specific BPP office, I think it would be more interesting as a Legacy Library. As it is, it seems more relevant as a list than an LL.

It's interesting, certainly. Many titles with which I'm unfamiliar.
>2 elenchus:
Yeah, I agree - interesting, but more as a list than an LL, necessarily.