MemberLawrenceDurrell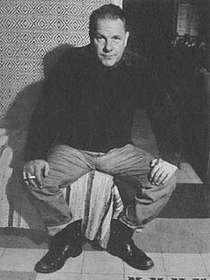 Books

1,323

Collections

Tags

Clouds

Media

Joined

Jan 12, 2009
Real Name

Lawrence Durrell

About My Library

Durrell was an avid reader, and often incorporated elements from works of history and mythology into his own fiction and poetry. His library includes many works by his contemporaries, including books inscribed to him by T.S. Eliot, Henry Miller, and others. After his death, his library was split between two institutions:

Southern Illinois University Carbondale (SIUC)

, and l'Universite Paris X Nanterre.

We are currently cataloging books from the portion of Durrell's library housed in the

Special Collections Research Center

at SIUC.

About Me

Lawrence Durrell (February 27, 1912 – November 7, 1990) was a writer, artist, and diplomat. He was a member of the experimental Villa Seurat group of 1930s Paris, and maintained a lifelong friendship with Henry Miller. His most well-known works are the

Alexandria Quartet

and

The Black Book

.
This site uses cookies to deliver our services, improve performance, for analytics, and (if not signed in) for advertising. By using LibraryThing you acknowledge that you have read and understand our
Terms of Service and Privacy Policy
. Your use of the site and services is subject to these policies and terms.