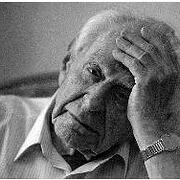 Herbert Marcuse
(1898–1979)
Common Knowledge
Canonical name

Legal name

Birthdate

Date of death

Burial location

Gender

Nationality

Country (for map)

Birthplace

Place of death

Cause of death

Places of residence

Education

Occupations

Relationships

Marcuse, Irene (granddaughter)
Marcuse, Harold (grandson)
Lowenthal, Leo (collaborator)
Moore, Barrington (friend)
Marcuse, Peter (son)

Organizations

Institute for Social Research, Frankfurt
Office of Strategic Services
Office of War Information
Brandeis University
University of California, San Diego

Awards and honors

Short biography

Herbert Marcuse was born and raised in a German Jewish family in Berlin. He was drafted into the German Army in World War I, but served only in a supportive job. In 1919, he participated in the failed socialist uprising of the Spartacists. He earned a Ph.D. in 1922 from the University of Freiburg and then moved back to Berlin, where he worked in publishing. In 1924, he married Sophie Wertheim, a mathematician. With his academic career blocked by the rise of the Nazi party, Marcuse joined the Institute for Social Research in Frankfurth in 1933 and was considered one of the most promising political theorists of his generation. Marcuse had to flee Germany and in 1934 he emigrated to the USA. Although he never returned to Germany to live, he remained one of the major theorists associated with the Frankfurt School. During World War II, Marcuse first worked for the U.S. Office of War Information on anti-Nazi propaganda projects and then for the Office of Strategic Services (which later became the CIA). After the war, Marcuse was employed by the U.S. State Department as head of the Central European section, retiring in 1951. In 1952 he began a teaching career as a political theorist, first at Columbia University, then at Harvard University, Brandeis University and the University of California, San Diego. He married two more times after the death of his first wife. Marcuse devoted his life to teaching, writing and giving lectures around the world.
Statistics
Works

124

Also by

8

Members

6,192

Popularity

#3,968

Rating

3.7
Reviews

53

ISBNs

341

Languages

17

Favorited

12

Touchstones

15