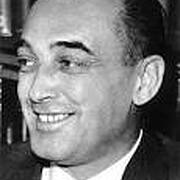 A. E. van Vogt
(1912–2000)
Author of Slan
Common Knowledge
Canonical name

Legal name

Birthdate

Date of death

Gender

Nationality

Birthplace

Place of death

Cause of death

Places of residence

Relationships

Organizations

Awards and honors

SFWA Grand Master (1995)
Prix Aurora Award (Lifetime Achievement, 1980)
SF Hall Of Fame (Living Inductee, 1996)

Short biography

Alfred Elton van Vogt was a Canadian born American science fiction writer of the mid 20th century. He's most famous for his Voyage of the Space Beagle, Null-A and Slan novels, as well as a number of short stories.

Disambiguation notice

born Alfred Elton Van Vogt

A Variant Title of the work The Rogue Ship is The Twisted Men. The Twisted Men is also the title of a Collection containing the above.

Many works by van Vogt were published with Variant Titles:
Abdication=The Invisibility Gambit
The Pawns of Null-A=The Players of Null-A
The Voyage of the Space Beagle=Mission: Interplanetary
The Weapon Makers=One Against Eternity
The Book of Ptath=200 Million A. D.
The House That Stood Still=The Mating Cry=The Undercover Aliens
The Mixed Men=Mission to the Stars
The Beast=The Moonbeast
Future Glitter= Tyranopolis
The Secret Galactics=Earth Factor X
Computerworld=Computer Eye=La Machine Ultime
Out of the Unknown=The Sea Thing and Other Stories
Monsters=Science Fiction Monsters=The Blal
The Book of van Vogt=Lost: Fifty Suns

Many short fiction and omnibus works were also published with Variant Titles. Please see listing in the Internet Speculative Fiction Database for more details.
Statistics
Works

334

Also by

152

Members

19,561

Popularity

#1,116

Rating

3.5
Reviews

257

ISBNs

559

Languages

14

Favorited

52