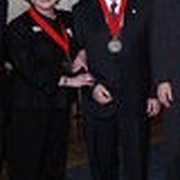 Common Knowledge
Birthdate

Gender

Nationality

Places of residence

Education

Occupations

Organizations

Awards and honors

National Humanities Medal (2008)
Washington Children's Book Guild and Washington Post Non-Fiction Award (Lifetime contribution)

Agent

Short biography

From Prof. Marrin's website: Years ago, I taught social studies for nine years in a junior high school in the East Bronx in New York City. On some days, when the class was restless, I would declare "story time," and tell adventure stories from history, such as Custer's "last stand" and Sir Henry Morgan the buccaneer.

After graduate school, I became a college teacher. Professors are supposed to "publish or perish," write books and articles to gain promotion and tenure. I had no intention of perishing. I wrote four scholarly books, all well received in the profession. That was nice, and I was pleased. But I was not thrilled. I wanted to reach a larger audience, not as a scholar but as a storyteller. Actually, I wanted connect what I knew as a teacher with how I felt as a storyteller. So I began to write history for younger readers. I tried to write in the most interesting way I could, all the while remaining true to the facts. It worked. So far I have written more than forty books for young readers. Though now retired from teaching, I spend much of my time reading, listening to music – and especially writing more books.
Statistics
Works

52

Also by

1

Members

4,280

Popularity

#5,874

Rating

4.0
Reviews

103

ISBNs

157

Languages

2

Favorited

2

Touchstones

13