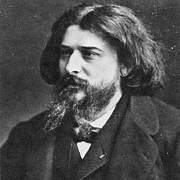 Alphonse Daudet
(1840–1897)
Common Knowledge
Canonical name

Legal name

Other names

Baptiste (Pseudonyme)
Gaston-Marie (Pseudonyme)
Froissart, Jehan (Pseudonyme)
de l'Isle, Jehan (Pseudonyme)
Daudet, Alfonz
Daudet, Alfonsus (show all 8)
Dodē, Alfonss
Dodé, Alfons

Birthdate

Date of death

Burial location

Gender

Nationality

Country (for map)

Birthplace

Place of death

Places of residence

Education

Occupations

novelist
soldier (Garde Nationale ∙ Franco-Prussian War)
short-story writer
teacher
private secretary (to Duc de Morny)
poet (show all 7)
playwright

Relationships

Organizations

Duc de Morny (Secrétaire particulier, 18 60 l 18 65)
Collège d'Alès (Répétiteur, 18 55 l 18 57)
L'Événement, Journal (Collaborateur)
Le Figaro, Journal (Collaborateur)
L'Universel, Journal (Collaborateur)
Paris-Journal, Journal (Collaborateur)

Short biography

Alphonse Daudet né en 1840 à Nîmes et mort en 1897 à Paris (France) est un auteur français de romans, récit et nouvelles de moeurs et sentiments principalement inspirés de la Provence. "Les lettres de mon Moulin" (1869) est son oeuvre majeure.

Né d'un père industriel en soierie, il grandit à Nîmes avant que la famille ne s'installe à Lyon ou il est inscrit au Lycée Ampère. La faillite de son père l'empêche de passer son baccalauréat et il devient répétiteur (Maître d'études) au collège d'Alès en 1855.

En 1858, Alphonse Daudet rejoint son frère Ernest à Paris pour tenter d'y faire carrière dans la littérature. Il rencontre alors Frédéric Mistral et collabore à plusieurs journaux. De 1860 à 1865, il est secrétaire particulier du Duc de Morny. S'inspirant de son enfance, il écrit des contes qui rencontrent un certain succès. En 1866 paraissent sous forme de feuilletons dans les journaux les première "Lettres de mon moulin" qui seront compilées dans un recueil en 1969. Parmi celles-ci, certaines histoires deviendront célèbres : La Chèvre de monsieur Seguin, Le Curé de Cucugnan, ...

Daudet réalise également des romans tels que la trilogie de Tartarin de Tarascon (1872 - 1890). Dans ses contes fantaisistes et ses romans de moeurs contemporaines, Alphonse Daudet montre toujours un certain réalisme.

Ayant contracté la syphilis dans ses jeunes années, Alphonse Daudet décède en 1897 de complications liées à cette maladie. Il est enterré au cimetière du Père-Lachaise à Paris.

A sa mort en 1896, Edmond de Goncourt charge, par testament, Alphonse Daudet et Léon Hennique de fonder un groupe littéraire décernant chaque année un prix à un ouvrage écrit en prose. Une bataille juridique s'engagera avec la famille Goncourt jusqu'en 1900. La charge d'Alphonse Daudet sera reprise par son fils Léon et le premier prix de l'académie Goncourt sera attribué en 1903.
Statistics
Works

289

Also by

31

Members

4,172

Popularity

#6,036

Rating

3.6
Reviews

75

ISBNs

888

Languages

29

Favorited

7

Touchstones

43