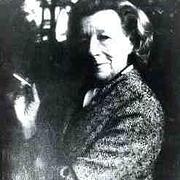 Lillian Hellman
(1905–1984)
Common Knowledge
Canonical name

Legal name

Birthdate

Date of death

Gender

Nationality

Birthplace

Place of death

Cause of death

Places of residence

New Orleans, Louisiana, USA
New York, New York, USA
Hollywood, California, USA
Martha's Vineyard, Massachusetts, USA

Education

Occupations

Relationships

Organizations

Awards and honors

American Academy of Arts and Letters (1962)
Fellow, American Academy of Arts and Sciences (1960)
National Institute of Arts and Letters (1946)

Short biography

Lillian Hellman was a popular playwright whose most successful works were created between the 1930s and the 1960s. She also published several bestselling volumes of memoirs. Several of her plays were made into films. Ms. Hellman was equally famous for refusing to testify before the House Un-American Activities Committee in 1952, and for her long romantic relationship with Dashiell Hammett.
She also conducted a lengthy feud with writer Mary McCarthy.

Statistics
Works

47

Also by

24

Members

3,844

Popularity

#6,592

Rating

3.9
Reviews

57

ISBNs

151

Languages

9

Favorited

13

Touchstones

97