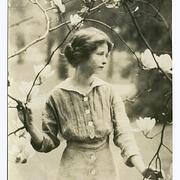 Edna St. Vincent Millay
(1892–1950)
Common Knowledge
Legal name

Other names

Birthdate

Date of death

Burial location

Gender

Nationality

Birthplace

Place of death

Places of residence

Rockland, Maine, USA
Poughkeepsie, New York, USA
New York, New York, USA
Paris, France
Camden, Maine, USA

Education

Occupations

Relationships

Organizations

Awards and honors

Short biography

Edna St. Vincent Millay pulled herself out of a poverty-stricken childhood and became queen of the Bohemians during her years in New York's Greenwich Village. She expressed the recklessness of the Lost Generation of writers and artists following World War I with her famous poem "First Fig" ("my candle burns at both ends. . ."). She was the first woman to receive the Pulitzer Prize for Poetry.
Statistics
Works

113

Also by

69

Members

5,809

Popularity

#4,240

Rating

4.1
Reviews

76

ISBNs

182

Languages

5

Favorited

83

Touchstones

138