MemberGoodHeartFarm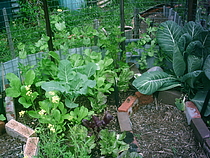 Collections

Tags

gardening (864), plants (841), horticulture (837), self-sufficiency (721), smallholding (721), homesteading (719), food (689), agriculture (624), food plants (584), vegetables (534), edible plants (509), farming (488), small farm (487), science (391), fruit (225), herbs (202), vegetable gardening (201), environmental science (184), self-reliance (155), foraging (153), farm animals (151), weeds (148), market gardening (147), botany (141), kids (140), companion plants (139), health (133), craft (122), wild harvest (118), sustainability (115), cooking (113), history of farming (93), computers (86), salad crops (85), electronics (85), business (83), green living (82), herbalism (82), Australian native plants (78), mathematics (77), chemistry (76), biology (76), nature (76), natural health (73), wildcrafting (69), soft fruit (64), flowers (64), orchard (64), art (59), physics (58), trees (57), organic gardening (55), futurist (55), market garden (52), organic growing (51), history (50), programming (47), composting (47), sustainable living (44), building (43), travel (42), sf/fantasy (40), DIY (39), crime (39), roses (39), Australian gardening (38), engineering (38), martial arts (35), woodwork (35), poultry (33), forestry (32), pottery (31), war (31), grains (30), technology (30), small business (30), permaculture (30), ecology (29), appropriate technology (29), zoology (27), cartooning (27), healing (27), alternative technology (27), calculus (26), environment (26), military (26), warfare (26), natural history (26), politics (25), drawing (25), recycling (24), cottage garden (24), illustration (23), activist (23), fungi (22), cereals (22), mushrooms (21), finance (21), geography (20), chickens (20), native plants (20), animals (19), sociology (18), animal husbandry (18), England (18), shrubs (18), sheep (18), seeds (17), kids science (17), history of self-sufficiency (17), management (17), Tasmania (17), geology (17), preserving (15), survival (15), nuts (15), pests (15), comedy (14), writing (14), astronomy (14), ducks (14), karate (14), personal developement (13), sustainable agriculture (13), propagation (13), geese (13), turkeys (13), green (13), web design (13), humour (13), farm buildings (13), tools (13), self developement (13), farm machinery (12), stock (12), livestock (12), ethnobotany (12), philosophy (12), cottages (11), French (11), polyculture (11), architecture (11), naturalist (11), aromatherapy (11), futurism (11), cows (11), language (11), seed saving (10), life coaching (10), homeopathy (10), goats (10), forest gardening (10), bush food (10), minerals (10), C (10), detective (9), herbal medicine (9), community development (9), fiction (9), sustainable gardening (9), crofting (9), garden calendars (9), agronomy (9), pigs (9), wild food (9), time management (9), wood (9), computing (9), farm (9), salad greens (9), garden planners (8), rabbits (8), bulbs (8), mycology (8), solar power (8), nursery (8), herbalist (8), law (8), organic chemistry (8), country living (8), magic (8), pests & diseases (8), operating systems (8), tai chi (7), bush tucker (7), Dr Seuss (7), community self-reliance (7), solar (7), Biggles (7), space science (7), design (7), publishing (7), ceramics (7), history of science (7), diseases (7), mineralogy (7), population studies (7), timber (7), invention (7), France (7), guinea fowl (6), crops (6), beauty therapy (6), natural farming (6), horror (6), environmentalism (6), eco-living (6), dairying (6), languages (6), pollution (6), space (6), education (6), economics (6), chooks (6), bees (6), game books (6), economic botany (6), folk medicine (6), traditional crafts (6), soil science (6), tomatoes (5), personal development (5), self-help (5), GM (5), folklore (5), energy (5), palaeontology (5), pesticides (5), australian native plants (5), money (5), quail (5), Appropriate technology (5), herbal healing (5), VB (5), internet (5), visual basic (5), baking (5), pets (5), linear algebra (5), culinary herbs (5), self-development (5), painting (5), cultural studies (5), medicine (5), farm hand tools (5), history of gardening (5), camping (5), anti-GM (5), evolution (5), anti-nuclear (5), budget (5), pruning (5), garden tools (5), dairy (5), genetics (4), autobiography (4), candlemaking (4), spirituality (4), comics (4), History of Tasmania (4), Ireland (4), biography (4), sf/fantasy art (4), anthropology (4), data base (4), metalwork (4), media (4), basketry (4), poverty (4), fish (4), sci fi art (4), waste (4), conservation (4), graphic design (4), barley (4), Chinese medicine (4), alpines (4), robotics (4), alternative building (4), indoor plants (4), java (4), bushcraft (4), workshop (4), alternative living (4), pigeons (4), berries (4), birds (4), marketing (4), prospecting (4), materials science (4), criminology (4), thinking (4), accounting (4), garden design (4), lettering (4), winemaking (4), toxicology (4), massage (4), first aid (4), companion planting (4)

Clouds

Media

Groups

Ask LibraryThing, Australian Gardeners, Bioethics, Book Design!, Bookcases: If You Build/Buy Them, They Will Fill, Ecology and the environment, Entrepreneurs, Environmental history, Evolve!, food studies, Futurists, Gardening, Getting Published, Global Health, Global Warming, Globalization, homesteading, Naturalists, Nature Lit, Practical Organic Vegetable Growers, Read to Stop Global Warming, Seed Saving, Self Sufficiency & Survival, Self-Sufficiency Thingers, Small Press, Sustainability, Treehuggers

Joined

May 30, 2006
Real Name

Gavin Edwards

About My Library

We collect gardening, vegetable growing and self-sufficiency books.

Hope you enjoy a look through our library!

About Me

Independent food plant and self-sufficiency researcher.
Master Gardener(Edible Plants)™
Master of Self-Sufficiency™

Between 1997 and 2012 we started Australia's first Sustainable Small Farm™. Then we moved to NW Tasmania to start Australia's first Community Farm™.

Our farm is 23 acres on the North-west of Tasmania bordering the Tarkine rainforest.

™ Mama Earth Pty Ltd ACN 146 054 828.

Location

Homepage

Memberships

Favorite Authors

Michael Allaby, Soil Association, Ken Ausubel, Juliette de Baïracli-Levy, J. Baldwin, Becky Bee, Matthew Biggs, Richard Bird, Hope L. Bourne, Alan Bridgewater, Louis Bromfield, Stephen Harrod Buhner, William Cobbett, Joseph A. Cocannouer, Pat Coleby, Eliot Coleman, Rosalind Creasy, Peter Cundall, Max Davidson, James Sholto Douglas, Carla Emery, Stephen Facciola, Jackie French, Masanobu Fukuoka, Robert A. De J. Hart, Kevin Heinze, D G Hessayon, Lawrence D. Hills, Les Hodge, John Jeavons, Robert Kourik, Gary Larson, Fred W. Loads, Amory B. Lovins, Richard Mabey, Stirling Macoboy, Bill Mollison, Helen Nearing, Jeff Nugent, Roger Phillips, Michael Pollan, Michael Potts, J. I. Rodale, John Schaeffer, Allan Seale, John Seymour, W. E. Shewell-Cooper, Vandana Shiva, Andrew Singer, Geoffrey Smith, Paul Stamets, Katie Thear, Earley Vernon Wilcox, Matthew Wood, Penny Woodward

Local Favorites

Other: LibraryThing H.Q.
Member Connections
Friends

Interesting Library

AJBraithwaite, Ammnsn, antisyzygy, AsYouKnow_Bob, austcrimefiction, balsamfir, bberryhill, Bcteagirl, BelannaChiana, bernsad, bettyjo, bluetyson, bookstopshere, botanica, bw42, cedric, countrypie, crimson-tide, DrRock, EcoBooks, flemmily, gazmaniac, geohistnut, Gurdur, hellhound, infoaddict, islandfarm, j.a.lesen, James, JeanCappello, JMAlexander, johnnyapollo, libraryofus, MargZito, MarianV, mingo_clambake, mistyroa, mldg, Mouldywarp, NightHawk777, PacULib, padraic, paulhurtley, pricklypear, primlil, provisionslibrary, raketa, redtide, restructuregirl, richardmckellar, ringman, rowens, rubicon528, Rynemonn, Rynosseros, sallysetsforth, sarahemmm, scififan42, setnahkt, Sihaya48, SimonHaynes, Sue45188, tardis, theoldman, thereselittleton, tophats, tyche, viciouslittlething, WalnutSpinney, weaponxgirl, Whatnot, wolfe, wpisfs
This site uses cookies to deliver our services, improve performance, for analytics, and (if not signed in) for advertising. By using LibraryThing you acknowledge that you have read and understand our
Terms of Service and Privacy Policy
. Your use of the site and services is subject to these policies and terms.